Listen, I have made no secret about how I feel about snakes. In short, the tamest ones freak me out and the scariest ones can actually kill me. And you kind of have to get way too close for comfort (read, within a 100-foot radius) to find out which kind (bitey die or bitey no die) of a snake it is, so nope.
Fine, fine, they eat bugs and vermin that would overtake the world without snakes. Fine. They're more scared of us than we are of them. I can quibble with that personally, but fine.
But I have to tell you that in preparation for this story, I had to compile an entire folder of snake stories for this Wednesday WTF. For someone like me, that's like collecting boogeymen and shoving them under your bed for further review. So maybe you expected some patriotically themed column this week, but I need to get this out of my life so I can quit having dreams about snakes that even Freud would say were definitely about terrifying snakes and not about what Freud liked to say snake dreams were about.
So, in no particular order because reasons, I give you Snake Stories That Have Freaked Me Out in the Last 30 Days.
Man Kills Snake, Snake Bites Him Anyway
Seriously, did you know that rattlesnakes can still bite you when they're dead? A Corpus Christi man became an object lesson this summer when he came across a rattler while gardening, and cut its head off. Then he picked up the head (which I would not have done because that's what fire is for), and the head bit him in the hand.
Anyway, while I was reading this article about it I also learned how many kinds of deadly snakes live in Texas and all the ways they can kill you so.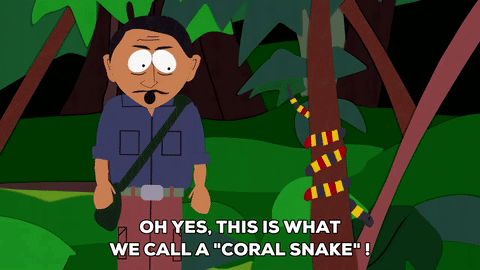 Also, I learned not to pick up the severed heads of snakes.
There's a Nope Noodle in Their Pool Noodle
Hahahaha kids love to swim and they love pool noodles SO OF COURSE THERE WILL BE A FULL GROWN RATTLESNAKE AND A COUPLE OF ITS KIDS LIVING IN ONE.
That's how these things work.
Anyway, this family in Arizona went to grab their pool noodles to go swimming and out popped a rattlesnake so goodbye swimming forever.
Man Bites … Sigh, I Can't Even
Here. I'm done. I can't. Just no.
Anyway, happy Independence Day. Watch out for the pool noodles.