We have one more episode of Flip or Flop Fort Worth in 2017, and Ashley and Andy Williams pull out a whole lot of stops on an adorable Arlington Heights Cape Cod-style cottage in this week's episode.
But before we get to this week's episode, we have some letters to answer.
Kelly had the first of two questions about last week's Benbrook flip.
"Where did they get the rug in the living room, gray & white with blue accents?" she asks. Well, Kelly, I'm doing some checking now, but my usual sources are turning up empty so far. It likely came from the stagers, but I'll work on finding it (or something comparable) by the next new episode!
And Jean had wanted to know about that wallpaper.
"It was such a fun pattern — where can I get it?" she asks.
The wallpaper can be found at Brewster Home Fashions and is from the Wonderland series produced by Boråstapeter. It's called Skog Green Forest, and if you like the pattern but want a different color scheme, there are a couple more to choose from. I'm personally in love with pretty much all of the Boråstapeter wallpapers, though.
Last night's episode found the duo in Arlington Heights, checking out a Cape Cod-style cottage home built in 1939. It's a two bedroom, one bath home, and the asking price is $239,000.
As they're driving to it, Ashley and Andy talk about how normally they wouldn't look at a two bedroom, one bath home because they don't sell well.
With this market, the difference in price for a two-one apartment and a two-one mortgage payment is almost nil. A 30-year mortgage for a $239,000 two-bedroom home in Fort Worth with a 3.92 percent interest rate is $1,130 — and that's not counting property taxes and insurance. According to ApartmentList.com, the median rental rate for a two-bedroom apartment in Fort Worth is $1,130. So unless you're just adamant that you need to own some land — or there's some potential for expanding the home later, most buyers aren't going to see the value in a two-bedroom house.
"We have to find out if we can make it a 3/2, because that's where the moneymaker is," Ashley says.
All that said, they drive up and the house is cute. Really cute. I mean, it needs a little curb appeal, but it's actually adorable.
"Finally, you've brought me someplace that's not a dump," Ashley says.
My notes: "So if it's cute on the outside, does this mean it's a hoarder house full of newspapers and old diapers on the inside?"
The house has a nice foyer, and Ashley likes the opportunity to dress up a formal entryway.
"Andy, it's almost move-in ready!" she says as they walk into the living room.
"It's really well maintained," Andy agrees.
They enter the first of the two bedrooms and discover that the single bathroom is a jack-and-jill bath, which means it's even less attractive to buyers because guests have to walk through a bedroom to get to the bathroom.
But still, the bathroom is clean and has been updated in this decade, so it's an improvement over some of the other homes they've seen in other episodes.
They pause for a minute to talk about the fact that if they can't find a way to create a new bedroom and bathroom in the house, they'll probably pass it up.
"Two bedroom/one baths don't sell," Andy says. "Most flippers would pass this up."
The kitchen is cute, but small and nearly claustrophobic.
"It's a cute little galley," Ashley says.
"We're gonna have to make it bigger though," Andy replies. As luck would have it, the formal dining is actually huge. Ashley suggests putting the kitchen in there and opening up the formal dining a bit more to the living room, making it one big room with a kitchen, dining area and the living room.
Then the moment of truth. They walk through some saloon doors and find a big room that is apparently being used as a laundry room. It's huge. Big. Giant.
Ashley's eyes light up like Christmas when she explains how she'll turn that big room into the master, and turn the old kitchen space into the master bath, gaining them that third bedroom and second bath without adding square footage to the home.
They finish up the tour by looking at a cute backyard with a big patio area that needs just a little TLC.
"This is probably one of the best houses we've seen," Andy says, adding that it's also one of the first that they walked out of without getting fleas.
The house is priced at the top of the price range for two-bedroom, one bath homes, Andy says. He'd like to offer $190,000, and budget $55,000 for renovations. Comps for the area are around $315,000. The seller counters at $200,000, and Ashley and Andy buy themselves a Cape Cod-style cottage.
"We're going to turn a two-bedroom, one-bath into a 3/2, in record speed time," Andy says. Ashley looked on board with the first part, but she looked mighty dubious about that second part.
Next up is demo day. THEY'RE RIPPING OUT SHIPLAP. Somebody check on Joanna Gaines, she may be in a faint.
Fixer Upper made us cherish Shiplap when sometimes you just don't need it. Lol. #FlipOrFlopFortWorth

— Ms Imani Pope (@Influplexity_) December 22, 2017
Hey, Blake the contractor is here so there's probably a problem. Hey, look, I'm right. Blake says he can't find the cleanouts on the sewer line, and then implausibly asks Andy if he'd like to go crawl under the house.
Listen, I know what's under a pier-and-beam house in Texas — critters, dead critters, bugs, and lots of nope. We once had to get a plumber out to our house and I've never seen someone pop up through a crawl space faster than he did when he came eye to eye with a possum. Why Andy would look happy to go under a house is beyond me.
But hey, they found where the sewer tie-in is, and it's in the perfect spot for the new bathroom and kitchen. So yay?
"It's in perfect condition to tie-in to the new bathroom," Andy says.
There's some more work going on, and then Blake comes out again with another problem. We're still in the first day, Blake. Do you know about pacing and plot? Anyway, Blake says the AC is shot and will need to be replaced — to the tune of $5,500.
"That's 10 percent of my budget," Andy says, and then immediately pays it because hey, it's Texas. You can't do without AC in Texas.
After demo and framing, the place is nearly completely reconfigured.
"After framing, it's a totally different house," Ashley says. They pretty much gutted the house.
Ashley came by to show Andy the finishes, which she has chosen to mimic the beach house feel of the Cape Cod-style cottage. Think lots of blues and taupes, with pops of white.
Speaking of taupe and pops of white, Ashley wants to paint the house with that color scheme. However, Blake says to paint the vinyl siding they need a special primer or the paint won't stick. It's not cheap, but Ashley says yes.
A few days later, the two visit the job site and notice something peculiar – none of the rooms have doors.
"There are no doors," Ashley says. They yell for Blake, who appears on a flying one-hundred dollar bill because guys you know if Blake appears you're spending some money most likely.
Blake: "They lost the order. All the doors."
How do you lose every door for the house??? #FliporFlopfortworth

— K (@kchantll) December 22, 2017
@AshleyandAndyFW Don't be walking in and telling Ashley and Andy that you have lost their doors. #FlipOrFlopFortWorth

— Geoff Beene (@beenedawg) December 22, 2017
"The upside is, they found them and they're putting a rush on them," Blake says, adding that a crew will be staying late to make sure they get hung, since the open house is coming soon.
In the meantime, Ashley heads to an awning store. She wants to put awnings on the windows and over the front door, so she looks at fabric swatches, ultimately going with a striped awning over the windows and a navy blue over the door (which is painted red).
"I wanted to put the blue awning over the door to give it some dimension," Ashley says.
After Andrew comes in and put new sod in and new planting, Ashley tells Andy that she'd like to paint the foyer a deep navy blue to add some drama. He agrees (seriously, I've only seen him tell her no once, and that was about tile and she looked like he kicked her puppy).
Next up, staging and the open house. During the video of the house being staged, Ashley's voice over talks about the work they did on the house.
"Our biggest challenge was dividing that great room up into a kitchen and living space," Ashley says.
Time for the walkthrough. I LOVE THE WALK THROUGH.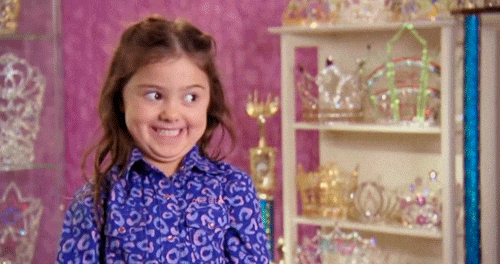 The exterior is adorable now. Taupe paint with white trim and the new awnings, combined with some nice landscaping, really makes the house stand out.
"It looks amazing," Andy says.
Twitter is divided on the awnings, though.
I feel like the awning over the left window and the one over the door are competing for attention.

— BOB (@NotUncleBen) December 22, 2017
Mixed feels about the awnings but I like the idea of something different #FliporFlopfortworth

— K (@kchantll) December 22, 2017
I love that she's adding awnings! They always do things no other flippers do. I love it! #FlipOrFlopFortWorth

— Ashley (@AshUnapologetic) December 22, 2017
Inside, the great room with the open floor plan really does make the house seem bigger. The living area flows into a dining area which flows into the open kitchen, and the whole space is an inviting place to hang out with friends and family.
Ashley staged the first bedroom to be a second living area, just to show buyers they have options, too.
The hall bath is gorgeous. It was nice before, but now it's sophisticated. A second bedroom is small, but big enough for a twin bed and furniture.
The new master is a good size, too. And it has been transformed. "It was basically a covered patio that they used as a utility room," Ashley says.
The master bath is big and has a gorgeous shower. "It used to be a kitchen," Andy says.
After the walkthrough, the two sit to discuss pricing. Expanding the home to a three-bedroom, two-bath house was a wise choice because "it gives the buyers options," Andy says.
Their all-in cost was $260,000. They decide — because the home is now a three-bedroom, two-bath and because of the upgrades — to list it at $325,000.
The open house is busy — but before people arrive, Andy takes a minute to compliment his wife (seriously, I love these two).
"That dress is stunning," Andy says. "It's a power suit," Ashley replies. It's also not a dress.
At the end of the show, Ashley says that the house hasn't sold yet. However, a quick look through current listings doesn't show the house, so maybe it has sold since they taped.
So what did you think? Are you team awning? Next week the show is a repeat, but if you have questions about finishes, go ahead and send them and I'll be back with the next new episode to answer them!
Bethany Erickson is the education, consumer affairs, and public policy columnist for CandysDirt.com. She also has opinions about TV shows, lima beans, orders that are appropriate for the drive-through, driving to Kansas, rats, Grey Gardens, apartments, dust ruffles, and wine. Contact her at bethany@candysdirt.com.
ICYMI: This cute, cozy cottage from tonight's #FlipOrFlopFortWorth! pic.twitter.com/QipdtfBNWc

— HGTV (@hgtv) December 22, 2017
#FlipOrFlopFortWorth rocks. Great afternoon with Andy who is transforming Fort Worth house by house. #Argosy pic.twitter.com/9DmuUgBTjo

— Mark Mandell (@mark3dc) December 22, 2017