As we continue our Blue Line buyers' train into Southern Dallas, we hit Ledbetter, Camp Wisdom and UNT Dallas DART stations. We also hit a lot more homes on the market. On the other side of I-35E is the Golf Club of Dallas that's been in the news lately (here). Net-net, by simply crossing east of I-35E, prices will fall by 25 to 35 percent and the homes will be slightly more modest. But the same forest of trees.
In case you're all confused, this is the fourth installment of my Southern Dallas Buyer's Guide where I'm riding the DART rails to see what's available in some of Dallas' last bastions of affordable housing. To catch up, click here, here, here.
The neighborhoods in this area are Glenview, Spring Hills, Hidden Valley, Runyon Springs, Cigarette Hill (I kid you not), Wisdom Terrace, and Wheatland Meadows.
Shoe Leather is More Valuable Than The Internet
Before we get too far in, it's important to know that you're very unlikely to see Ebby, Briggs Freeman, Allie Beth, and other more northern-oriented Dallas brokerage signs planted in front yards in Southern Dallas. The biggest reason for this is that the price points in these areas can't support the overhead of these larger brokerages.
Because of this, you see a lot of one-man-band type of brokerages who haven't been trained in the marketing of a home the way agents in larger brokerages have. As a result, the pictures are shockingly bad. Some have a single picture, others two. None are professionally photographed, let alone staged. Those that have more pictures, will often have interiors and decors that will be wildly different from your tastes. As such, there is no substitute to doing the legwork to see each home that looks interesting.
When touring a home, you will also need an inoculation against judging a home based on other folks' junk. Concentrate on flow and dimensions (bring your tape measure). The rest is paint, carpet and the like. Their enormous, oversized sofa and matching Buick-sized chairs aren't what you're buying. If you're having a problem picturing an overfilled room empty, tilt your head back and look at the ceiling — it's the same size as the floor and will give a better idea of proportions.
Our first stop is a flip located in the Glenview area — north of the Laurel Land Cemetery, just east of I-35E between Ledbetter and Laureland Road (Red Bird Lane). The 1971 home has been on the market for just over 100 days and is currently listed for $189,999 after starting at an overly aggressive $238,888 back in May. Now for under 200 large you get 2,137 renovated square feet with four bedrooms and three bathrooms on a quarter acre lot at the end of a cul de sac. That's $89 per square foot! Yes, to my eyes the wrought iron is questionable, but it was the 1971 after all (sigh).
Location-wise, kiddies are two blocks from Thomas Marsalis Elementary, and any Lutherans are neighbors to the St. Paul Lutheran Church. If you drive around the neighborhood, the homes are similar vintage and quite well kept.
Here you can see your generous living room with new floors and a de-1970s fireplace. French doors to outside bring in a lot of light and you can see the hint of the partially opened kitchen and separate dining area.
If you can pull your, "I want a white kitchen" finger out of your bum brain, there's a lot of cabinets here and great counter space (and it's NOT the cheapest granite in the yard – bonus!). For $189,999, you will need to bring your own appliance package (fridge, dishwasher, range, washer and dryer) to the party, but the renovation is done. Before you think it, yes, the backsplash is a little Hollywood Squares busy, but a minor fix that you may be able to bargain with the flippers to get done on the cheap. As I said earlier, no big brokerage here. The property is listed by Rachel Robertson with Fathom Realty.
Built in 1957, this 1,634-square-foot home, sitting on a quarter acre, contains three bedrooms and two bathrooms. It's been listed for $115,000 ($70 per foot!) with Broderick Rhodes of Scottie Smith II & Associates for a pinch over three weeks. Oxbow is another street in Glendale full of midcentury homes in the 1,400 to 2,000 square foot range. Lots of mature trees that with a little bush trimming will transform the curb appeal of this home.
This is an example of a home with atrocious pictures … all three of them. Here we see the kitchen with the original cabinets with a mix of original and new-ish appliances. Sadly it appears the owner or agent's friend couldn't even be bothered to move out of the way of the camera while he diddles with his phone at left.
Picture three showcases a poorly maintained pergola and vintage brick barbeque. But most importantly, the concrete appears in good nik. Yes, this home is a renovation candidate. But at $115,000, it wouldn't break the bank to rip off the pergola, trim the front bushes and toss in an Ikea kitchen and bathroom package. Under the carpet are likely hardwoods that may or may not need refinishing. Provided the home inspection goes well, all said and done you have a single-family house for pennies on what you'd spend on an apartment. And you're under 10 minutes from either the UNT or Ledbetter DART stations. If you have to brave I-35E, it's 3 minutes away (but far enough away to not hear it).
Are you patient? Just across the street from 946 Oxbow is a hair under 4 acres of raw land for $185,000. There's even an offshoot of Fivemile Creek on the property. The deal here is to plat out the land into individual lots. Pick the best, most secluded one for yourself and build a great, but modest home. Wait. Wait. Wait. Soon enough once the revitalization of southern Dallas has really latched on, you're sitting on perhaps 20 generous buildable lots. Sure, "soon" is a decade or more, but in the meantime you have a good home in a private forest. Currently DCAD values the property at $33,240 with taxes of $903 a year that haven't budged in 18 years. The same person has owned the parcel since 1985.
Finally, a few minutes south of the Ledbetter station in the Cigarette Hill neighborhood, we have this 14-year-old home (2003) that's already down in the dumps. Cigarette Hill has a lot of newer infill housing for those wanting a newer home. This one is 1,500 square feet, three bedrooms and two baths and has been listed for approaching three months by Cecilia Williams of Next Level Realty for $105,000. That's $70 per foot. Wondering why I'd choose this rough house?
I included it because in December 2012, this is what it looked like when Google passed by. If it still looked like that, you'd be more likely to snap up for $105,000, right? Clearly something's gone wrong in the intervening years. Since being built, this has been a rental home, so it's definitely worth checking out the story here (tenants can be rough on property). Perhaps the place was trashed due to an eviction?
From the look of this picture there was some water damage. Given the home is from 2003, I suspect a pipe burst, perhaps while the home was empty.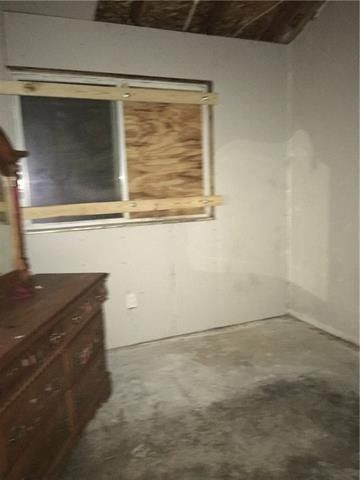 The master bedroom seems to further that story with part of the ceiling removed and the carpet and baseboards ripped up. I know boarded-up windows are scary, but judging from where the bolts are, the glass is intact and just there to keep squatters out of the home (it's clearly vacant).
The kitchen shows the Shaker cabinets everyone wants. If you're a white/white kitchen person, these can be painted relatively easily. Perhaps an upgrade in countertops as well. Again, the window appears intact, just keeping people from doing more damage.
So yeah, there's a ton of painting, drywall and flooring to repair and replace. But Kool Avenue is filled with newer homes. In fact, on the next block, 2634 Kool is also for sale. It's got the same square footage, bedrooms and bathrooms but has been updated and is in move-in shape. It's listed for $146,900 and has been on the market for about six weeks.
The question is, can you get 2516 Kool for a deal steal that puts profit in your pocket after the work is done? And is being able to customize a newer home to your tastes worth it to you? A builder and an inspector can tell you that.
Hopefully in this installment you saw there are a variety of properties available near UNT Dallas in some interesting neighborhoods. There are a lot of areas to explore. Quite a few have nothing for sale at this time, but it's certainly worth taking an afternoon and driving the streets to get a feel for where you'd want to narrow your search.
Stay tuned for more.
Remember: High-rises, HOAs and renovation are my beat. But I also appreciate modern and historical architecture balanced against the YIMBY movement. If you're interested in hosting a Candysdirt.com Staff Meeting event, I'm your guy. In 2016 and 2017, the National Association of Real Estate Editors has recognized my writing with two Bronze (2016, 2017) and two Silver (2016, 2017) awards. Have a story to tell or a marriage proposal to make? Shoot me an email sharewithjon@candysdirt.com.