Last Thursday, Harlan Crow was the keynote speaker at the Park Cities Historical and Preservation Society's Distinguished Speaker Luncheon. Why? Because his home, the fabulous 4700 Preston Road, designed by Anton Korn, and his fantastic Americana collection, will be featured on the society's Historical Home Tour on April 12.  Speaking at the Dallas Country Club,  Crow gave an overview of his vast collection which he looks forward to sharing with friends and neighbors.
Harlan is the third son of Margaret and Trammell Crow. After World War II, Trammell Crow came to Dallas and created one of the most successful real estate empires in the U.S. Harlan began working at his father's firm in 1974, after earning his bachelor's in business administration at UT Austin. He is now the chairman and chief executive officer of Crow Family Holdings, a private family business that manages the Crow family capital. Harlan said he has long been fascinated with history, a love that began when he was eight years old. President Herbert Hoover visited his childhood home in Highland Park. Crow's father, Trammell, gave him the president's business card, which became the very first piece of Americana he would collect.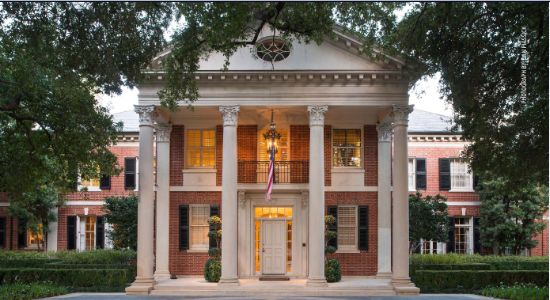 He was also fascinated with historical homes, including 4700 Preston. As a child he recalls sneaking onto the property. Years later, he was able to acquire the home on 7.7 acres north of Exall Lake Dam. He and his wife, Kathy, have added two wings. The first wing is the family wing, added  in 2003, which includes a two-story family room with three bronze and glass fixtures suspended from the ceiling. Harlan added his library/gallery wing in 2004, designed to showcase his 18th and 19th century art collections of portraiture, rare documents, manuscripts, and books. With a collection of more than 10,000 books and more than 5,000 manuscripts, Crow's is one of the most significant collections in the nation outside of the Library of Congress. Highlights include a 1493 pamphlet based on Christopher Columbus' hand-written letter to King Ferdinand. Crow says his copy is one of only 16 known to still exist, and it's the only one in private hands. He also has one of four known copies of Amerigo Vespucci's Mundus Novus, which contains the first published use of the phrase "New World." He has William Pierce's hand-written notes from the Constitutional Convention in 1787 .
Besides Hoover,  other occupants of the White House are represented in Crow's art collection. His collection includes a portrait of George Washington by Rembrandt Peale, and the personal paintings of Dwight D. Eisenhower and now George W. Bush, which were recently gifted.
Then there is his famous sculpture garden. It is divided into an "uphill zone for the good guys" aka Winston Churchill, Margaret Thatcher; Ronald Reagan is on his way to stand right next to Mrs. Thatcher. Then there is the "downhill zone" for the bad guys like Vladimir Lenin, Joseph Stalin, and Mao Zedong. Why did he spend good money on these guys?
Crow says because he wants them as reminders: people of his generation will never forget the Cold War and political struggles that ring true today.
"If these statues can be utilized as a tool to remind newer generations of the failure of the bad guys and the triumph of the good guys," he said, "then it's a lesson worth having."
But he does draw the line. One rare book he owns had a companion for sale for $12 million.
"I couldn't afford it," says Crow.
Other homes on this fantastic tour include 5 Willow Wood, The Pump House, now an art gallery and entertainment facility designed by Gary Cunningham, 4243 Beverly, designed by Lucius E. O'Bannon, and the McWay House at 4221 Lorraine.