He is Salem Boohaker, the General Manager of the new Belk department store going in at the Galleria.
Salem is single, has no children, and I am told he is having a tough time finding a neighborhood to call home in his new home, Dallas. Yes, Belk is that new store going in where Saks and (be still, my heart) Marshall Fields once was, at the Dallas Galleria.
I know Addison Circle is nearby, and it rocks, but I'm also told that Salem wants to be in a more urban environment because that's what he is used to. More lofts and such. Good eats and drinks not far away, and walkable except when there is an ice storm.
So let us help him find a 'hood, then a home. What do you think about Uptown? Downtown? The Galleria is a straight shot up the Dallas North Tollway, and I'll bet Mr. G.M gets a pretty decent parking space.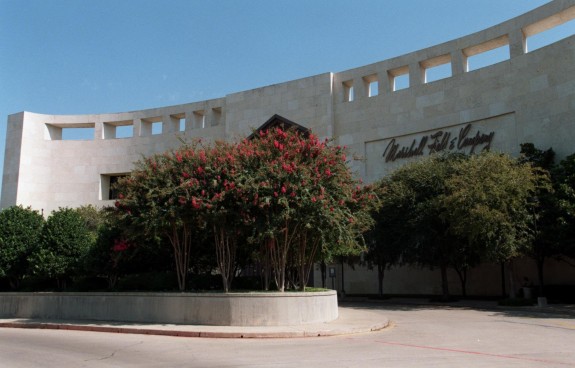 File photo from the Dallas Morning News, and I Heart It!
By the way, I thought Steve Brown's recent post calling Belk's product line "a bit down market from deluxe Saks" was a bit snarky. I would like to know the last time Steve was in Saks Galleria. The place was like a morgue, and it saddened me when I shopped there. You are talking to a Chicago girl who was raised at Marshall Fields and who spent her very first paycheck at Saks Fifth Avenue on Michigan Ave. I went to Marshall Fields' Dallas opening, I ate at the elegant top-floor restaurant, I dressed my children in clothing from the Fields children's department on the top floor.
Of course it was all wonderful in a building designed by Philip Johnson and John Burgee, this was 1981, the heyday of retail! To this day I think the Galleria is an easier mall to shop and park at (and more secure) than even my beloved NorthPark.
When Fields left Dallas, I needed anti-depressants, though having Saks moved in filled the void. I could still go to State Street or Watertower Place in Chicago.
Now I cannot bear to see downtown Chicago without a Marshall Fields, it's too painful.
                                                           File photo from the Dallas Morning News
So I am welcoming a new store that boasts of family management– the store was founded in 1888 in Charlotte, N.C. by William Henry Belk and his brother, a physician — brothers sounding very much like the Marcus family. There is a Belk's in Kerrville, been there. I don't blame them at all for altering the facade of the original Johnson structure because it screams Marshall Fields to anyone who remembers, always has, always will. The new formal peaked entryway with a metal screen and a huge glass tile store logo over the door will brand it as Belk's, not Fields. I hear Kate Spade is one of the many designer lines they carry, along with (very excited) Lily Pulitzer.
Steve, guess what I bought the last time I was in Saks at their clearance sale last spring? A pair of Kate Spade sandals.