I know everyone is focusing on 6645 Northaven, home to some of my neighbors and really one of the most significant mid century modern homes in Dallas, or the southwest for that matter. The house re-entered the market on May 23. But you need to know the history behind this white, light-filled wonder. The owners are an Amy and Darren Kozelsky, he being a Christian country music singer and she being an heiress, philanthropist and mom extraordinaire. The home went on the market in early 2011 for $11.5 million, listed with Lynette Scruggs of Dave Perry-Miller. The home was built on two acres in my lovely little enclave of Hillcrest Estates starting in about 2007, completed in 2009. The land had been owned by Beck and Peach Weathers, he of Mt. Everest mountain-climbing fame. We had some great parties in that home. 6645 was also owned by a family named Taylor before the Kozelsky's purchased the property.




Whilst I was working at D Home, I wined and dined the architect, Lionel Morrison, trying to persuade him to let me write the home up for D Home. Alas, Lionel chose LUXE Magazine for the launch, he told me, for it's bigger circulation. Well D Home finally got inside 6645 Northaven a few weeks ago with a big advertiser party, so fun! And I suspect the home will sooner or later find it's way inside D Home.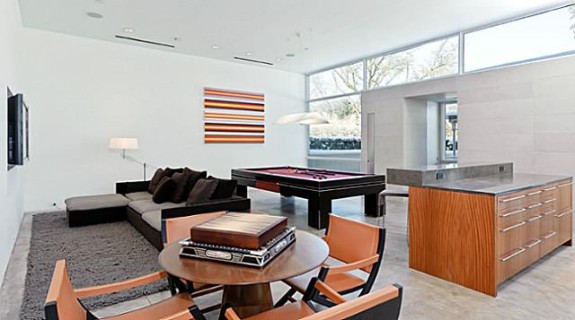 6645 Northaven is a true tribute to modern architecture, and feels quite 1950′s on the interior. Sophisticated 1950's, sleek. There are  natural concrete floors, warm wood on the stairs (Aframosia, imported from Canada) and also in the upstairs hallway. The kitchen counters are Pierre Brun white limestone; counters in the master bath are Balzaac Fleuri limestone imported from France. There are three bedrooms, a guest room, nanny's suite, children's playroom, a planning/wrapping room, office, media room, master bedroom with amazing closets, pull-out mirrors, and a cool decked-out basement music room which is where Darren does his music thing. The home is almost all ceiling to floor windows, absorbing the natural treed beauty of the almost 2 acre lot. No draperies; auto window covers and six-foot tall walls outside the windows generate total privacy. Talk about detail, Morrison is the master of it:  all doors are tall and recessed so it appears there are no doors anywhere. The home is 14,000 square feet and faces the crystal blue pool/waterfall, one of the most breathtaking ever. Actually, it reminded me of the pools and waterfalls in Kukio, on Hawaii's Big Island. The kitchen has a sub-kitchen and also a fireplace, very cozy.
Don't tell me mid century is cool, because the inside of this home is as warm as the sunset that captivates you every evening.
In March, 2011 the Kozelskys reduced this the most talked about home in Dallas to $9,750,000.  Amy said she was testing the waters. $9 point anything will still be a record for this 'hood. The last unreal sale that ripped us when William "Kip" Tindell bought Caroline (Minnis) Summers $5.2 millionish sleek contemporary home on Northaven at West Ricks Circle. It's a honey. I will remind buyers of that every second should I ever market my home.
Now 6645 Northaven is listed again, this time at a hair below $10 million — $9,950,000 — with one of the fastest developing real estate teams in the west: the Carroll/Eltis Group at ABA. Last year, this team of millennials sold more than $30 million in residential real estate.Let me tell you these agents are as interesting as this house! Aaron Carroll is a native 6th generation Texan from Tyler who claims he can trace his ancestry back to the Republic of Texas! He  lived in New York City for a year as a teenager, and while there enjoyed a brief acting career, appearing in television shows and movies. He was initiated into the exclusive Screen Actors Guild, of which he is still currently a member.
Aaron is an honor's graduate of Texas Christian University, where he received a Bachelor's Degree in Business focusing on Marketing. Real estate is in the fam, runs in their blood: his mom is a top-producing agent in Tyler, Texas.
Yeah, this is the guy who's selling this house and we hear his phone has been ringing a lot lately… with text messages and Instagrams about 6645 Northaven!