Staff Reports
Come say 'Hola, chicas!' to these chicks living their best lives, at a special way to celebrate Cinco de Mayo! Join us for A Peep at the Coops, a one-day tour of private urban chicken coops in North and East Dallas. This year, it's "Peepin' La Vida Loca," a 10th anniversary celebration, on this urban chicken experience tour set for May 5, which will allow you to chick out the eggcellent hen houses right here in Big D.
Some of the most innovative coops for raising chickens in the city are featured on the tour, and experts will be on-hand to answer all of your questions about urban chickens. The family-friendly event also features an Urban Market with local artisan and food vendors, community information booths, live entertainment, food trucks and other activities that the whole family will enjoy.
A Peep at the Coops is the largest fundraiser for Moss Haven Farm, a 501(c)(3) outdoor learning garden and STEAM curriculum enrichment for students located at Moss Haven Elementary. Moss Haven Farm is entirely supported by community and corporate support.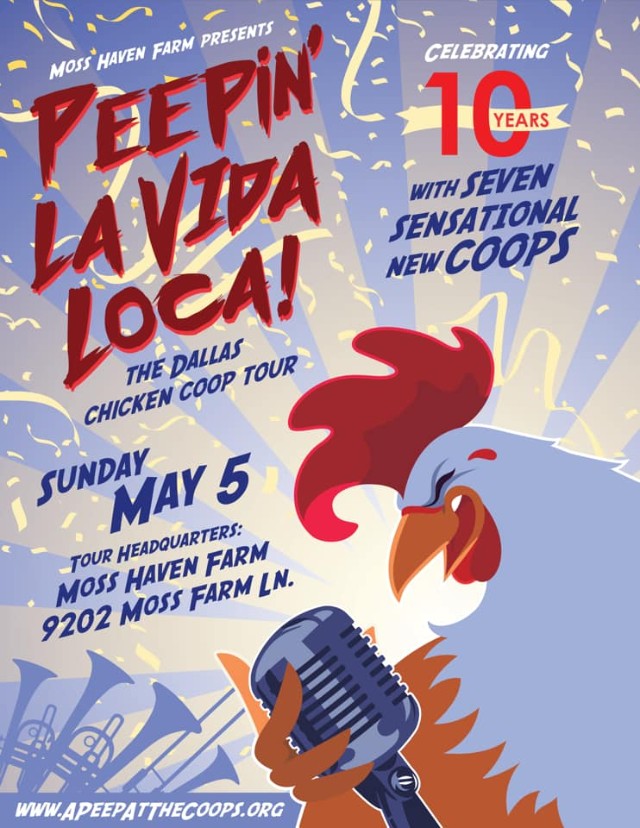 WHAT: A Peep at the Coops Urban Chicken Coops Tour and Urban Market
WHEN: Sunday, May 5, 2019 (What better way to enjoy Cinco de Mayo with su familia?)
TICKETS: Tickets can be purchased for $15/person online at www.aPeepAtTheCoops.org (for a $2 discount, use code CINCO), or in person at Moss Haven Farm during the event. Kids under 12 are free (children must be accompanied by an adult).
TOUR: 11 a.m. to 5 p.m.; Urban Market 10 a.m. to 5 p.m.
WHERE: Moss Haven Farm, 9202 Moss Farm Lane, Dallas, TX 75243
The tour begins at Moss Haven Farm, where tour tickets can be purchased and maps picked up, and Urban Market is held. Urban chicken raisers across North and East Dallas will provide their expertise, and Moss Haven 4H students will show off chickens and coops at Moss Haven Farm to visitors.
The event also includes:
Tour of seven urban chicken coops located throughout East Dallas
Food from Steel City Pops, Gepetto's Pizza, Scot's Café, and Kona Ice
Performances by FMJH's Sound Express, local choirs, students from Zound Sounds and dancers from Lake Highlands Dance Academy
Chicken Yoga ($5 suggested donation)
Special presentation at 1 p.m. from Daniel Cunningham, the Texas Plant Guy, on edible landscapes
Unique handmade items from local artisans for shopping
Raffle items include a farm-to-table dinner for six by Personal Chef Juan Laugerud, signed cap and draft cards from Patrick Mahomes, a full Invisalign treatment from Dr. Bill Blandford of Energy Square Dental, and Warhol Wobbler by Pallavi Gaitonde.
Seven outstanding urban chicken coops are on the tour:
Bienvenidos! – Moss Haven Farm – This impeccably-designed educational coop allows the 500 Moss Haven Elementary students to learn about chickens and coop care. Most of the hens are hatched in kindergarten classrooms. The 4H Club, with its 30 student members, participate in caring for the coop and learn chicken husbandry with an eye toward competition. They train with a master gardener to become proficient in different breed characteristics and have even shown the chickens at the State Fair of Texas. In fact, the Moss Haven 4H Team won "Best Egg Contents" in 2016 and 2017 at the State Fair of Texas, competing against more than 50 other entrants. All Moss Haven Elementary classes, grades K-6, attend weekly farm lessons where they tend their class vegetable bed while our hens look on.
El Sol – This solar-powered coop allows its family to leave for vacation for up to a month and only needing someone to collect eggs — energy-efficiency at its finest!
La Isla Bonita – This coop is named after a dearly departed hen, and features a flock of five hatched hens who are all Christmas chickens, born between December 24 and 26. The coop is not only beautiful, but also extremely functional and easy.
The Whole Enchilada – The coop is large and features a fence down the center that creates a makeshift racetrack. It gives the girls nine hen girls who call this their casa something to do and makes it easier to incorporate other birds into the flock.
El Sombrero – Come for the hens in the side yard and stay for the fully edible garden in the backyard! After attending this very tour five years ago, this coop's owner, a master gardener, became interested in raising hens for eggs and as pets. The large coop boasts four big, pampered hens and five baby chicks, and also features a fig tree which not only provides sweet treats but also lots of shade in the dog days of summer.
Los Huevos – After reading an article in The Dallas Morning News, this coop owner became interested in having fresh eggs in his own backyard. And with eleven hens spanning ten breeds, not only does he have plenty of eggs, but the eggs are also varied in both size and color. This coop features an automated waterer and a rodent-proof feeder that opens when the chickens step on the plate, and has a full-size door and a double roost at the back.
Los Pollos De Verano ("Chickens of Summer") – This family-friendly coop is the perfect home for eight spoiled hens. The child-friendly design allows the family's three kids to be involved with caring for the chickens and the coop itself.