It's spring and selling season is in full swing. Putting your home on the market means a lot of people are going to tour your house and they will see a lot of information about you if you are not careful. It's easy to determine someone's schedule and upcoming plans by a glance at a wall calendar or the invitations on your refrigerator. Keeping your home safe is crucial.
In general, people coming to see your home are lovely, honest, potential buyers. However, curiosity can get the best of anyone. And of course, there could be the one person that may be excited to know, according to the calendar on your refrigerator, that your home will be vacant while you vacation. If you're putting a home on the market, think safety first.
Identity
We've all heard about identity theft. Don't make it easy. Never leave identifying documents around the house.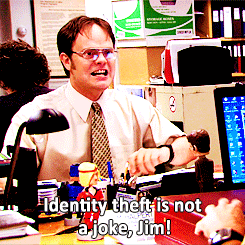 Kids
Identity protection extends to your children. Take their names off the wall, their photos off of your desktop, and their schedules off of the refrigerator.
Details
People coming into your home when it is on the market should not be able to find out any details about you or your life. Pay careful attention to any bulletin boards, lists, or invitations that may be easily seen and store them away.
Photos
Every picture tells a story. Photos are just another way to tell strangers way too much about your life. You need to be anonymous. Unless you are a celebrity —and that will add cachet to the sale, you don't need any buyer knowing who you are.
Mail
If you still get your bills by snail mail, conceal all of it. Make sure someone picks up your mail if you are out of town. Stopping mail delivery can tip off someone watching your house. If the mail person is not stopping, by anyone watching your house will notice.
Prescription Medications
Seriously. Whey would you ever leave these where someone could find them. They will walk right out your door.
Jewelry
Whether you have expensive pieces or sentimental, they can disappear. I can't tell you how many closets I've been in that have a showcase full of watches. It's a good way to lose them if you show them off.
Money
Do not leave change or money loose in anything that can be opened by a potential buyer. Distribute funds to those you pay in cash with an app rather than leaving an envelope on the counter with their name written boldly across the front.
Electronics
Lock them up, or take small items like iPads with you.
Keys
Spare keys should never be left out where a stranger can see them.
Weapons
We Texans do love our guns but when selling a home these need to be kept in a concealed locked environment. The same goes for antique weapons, including swords, knives, bows and arrows, anything that can hurt you. Frankly, that knife block on the counter is full of weapons. Put it away and stay safe!
Lights
Use an app. If you don't trust apps use timers and program them to go on and off at different times.
Windows and Doors
Make sure your Realtor checks windows and doors after open houses. It's super easy to flip a window lock for ease of entry after dark. Have that conversation with your real estate professional.
Landscape
Curb appeal means more than beauty, it also means safety. Trimming tall hedges means no hiding place for a potential burglar. Your house will show better as well!
Breakables
That fantastic collection of vintage Limoges boxes? Someone else will think they are fantastic as well and either pocket one or break it when they decide to pick it up. If you love it and it can break, pack it away.
Animals
When your home is on the market it's imperative to find a place for your furry pals not just for the ease of showing the house but also for the safety of your animal. No one wants an animal getting out. However, it's a good thing to let people know you have a dog. Dogs are the number one deterrent to burglary. Take the kid photos down, but you can leave one out of Fido!
Security Systems
Get WiFi-enabled security cameras and place them at both front and back doors. Ring doorbells are proving their worth every day.
Nature
Everyone has the odd out of town weekend or business trip, and that's prime time for nature to get crazy in Texas. Get a WiFi-enabled thermostat. It will be easier to ensure your heat has not gone off and your pipes will stay protected.
Furniture
If you have moved and are leaving a property on the market that is staged, tell your neighbors. Alert them to the name of the company and when you expect to have the house de-staged. Any movement of furniture before that date should set off an immediate alarm call to the police.
---
Karen Eubank is the owner of Eubank Staging and Design. She has been an award-winning professional home stager and writer for over 25 years. Karen teaches the popular Staging to Sell class and is the creator of the online course, The Beginners Guide to Buying Wholesale. Her love of dogs, international travel, history, white paint, champagne, artificial turf, and Tudor and Midcentury Modern homes, and any house designed by Clifford Hutsell knows no bounds. Her father was a spy, so she keeps secrets very well! Find Karen at www.eubankstaging.com