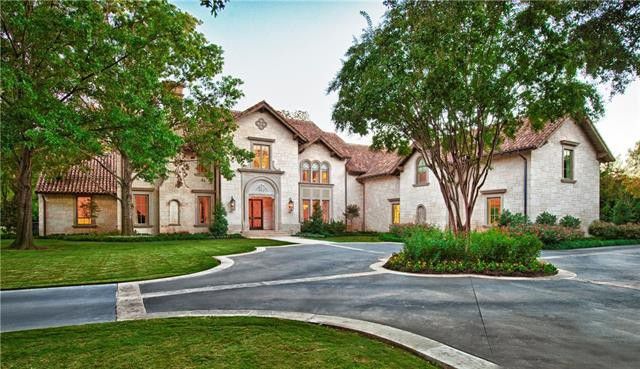 Forget the coffee this morning. Mix up a pitcher of Sangria. Then sit down and have a long look at this gorgeous Modern Mediterranean estate in Preston Hollow, designed by architect Larry E. Boerder.
Although the Mediterranean architectural style has been popular since the 14th century, America only got around to fully embracing it in the 1920s. Better late than never.
The '20s were a time of luxury, travel, and leisure for the upper classes. Enterprising businessmen took advantage of the economic boom and created the first resorts for the rich and famous, building them in coastal climates like California and Florida. They turned to the Mediterranean style because it captured the exotic and laid back ambiance of Italy and Spain. The Breakers in Palm Beach and The Miami-Biltmore in Coral Gables are classic examples. Naturally, this commercial popularity led to prominent architects like Addison Mizner in Florida and Bertram Goodhue in California adapting the style for residences. Mizner was one of the first architects to create grand resort-style Mediterranean estates for wealthy individuals.
The Mediterranean style has been made even more desirable by magazines featuring Hollywood movie stars and their homes. From Jayne Mansfield, Marilyn Monroe, and Cary Grant, to Ellen Pompeo, Eddie Murphy, and Gloria Estefan, more stars than I can count have chosen to live in Mediterranean-style homes.
It's not just the look to love, but this style is also extraordinarily practical for warm climates.
"Mediterranean- style homes are designed for the climate of Texas and are much more sustainable than other styles," Boerder said. "Large overhangs keep the sun off the house, and the clay tile roof has an inherent ability to shed heat. Wherever it's sunny, you will find this architecture."

Boerder knew his clients wanted a Mediterranean estate, and with two acres, there was plenty of room. When designing a proper Mediterranean residence, Boerder looks for the ability to build what he calls a "thin house."
"They are one room deep, so they have more natural light that carries through the house. This project was one where everything fell into place, and I think the house shows it."
Boerder worked with builder Cole Smith Jr. of Crowbar Constructors, Inc. to create 10,382 square feet of beautifully thought-out and detailed space.
I like a house where you don't see the staircase right away," Boerder said. "When it wraps around behind you, the house seems more open."
I always advise looking up in an architect-designed home, and this Mediterranean estate is no exception. When you first spot the groin vault ceiling in the gallery, it's a take-your-breath-away moment, and that feeling continues throughout the house.
There are five bedrooms, five bathrooms, two powder baths, and a phenomenal screen porch on the second floor.
"Everyone that sees that porch loves it," Dave Perry-Miller listing agent Malcolm Ross said. "Although it's a large home, the scale of the rooms and the design of the house make it comfortable and livable. It has a casual elegance, and an intimacy you would not expect in a house of this size."
And if you're looking for the perfect place for that Easter egg roll, there can't be a better backyard in Dallas!
The Ross Group has this Mediterranean estate at 10203 Holloway Road listed for $9.5 million.
---
Karen Eubank is the owner of Eubank Staging and Design. She has been an award-winning professional home stager and writer for over 25 years. Karen teaches the popular Staging to Sell class to Realtors and investors, and is the creator of the online course, The Beginners Guide to Buying Wholesale. Her love of dogs, international travel, history, white paint, champagne, artificial turf, Tudor Midcentury Modern, Mediterranean homes, and any house designed by Clifford Hutsell knows no bounds. Her father was a spy, so she keeps secrets very well! Find Karen at www.eubankstaging.com