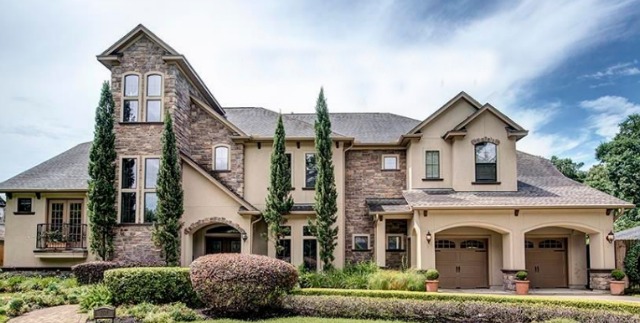 It's not every day that a mansion on Narre Lane comes on the market at all — usually homes in the extremely exclusive Dallas if-you-have-to-ask-you-can't-afford-it enclave of Savage Gardens are kept within the families that long ago claimed that tiny haven inside Dallas to themselves, or are quietly shopped among peers who tire of the social requirements of Highland Park.
In fact, most don't even know that Savage Gardens exists at all, so obscured by greenspace and the conventional wisdom that says situating mansions near the Trinity River is foolhardy — unless, of course, you're wealthy enough to afford the mechanics and technical workings to keep your home free of river water.
So when we heard that 401 Narre Lane was being offered as a hip pocket listing to potential buyers who can prove their bottom line, we jumped at the chance to pull back the curtain and show our readers how the other other other half lives.
Homes in this well-heeled sanctuary are a reflection of the families that owned them, always, with finishes and touches so unique you'll never find them in another home. Even the exteriors are frequently changed through the years, peeling off older facades in favor of newer amalgamations of styles, in order to better blend in with the less-preservation minded neighborhoods around them.
"Nothing to see here, we're just your average McMansions from 1990s Preston Hollow," the homes in Savage Gardens seemingly say to anyone who accidentally happens upon them, adopting a hide-in-plain-sight motif that serves the cloistered residents well.
"It's really amazing how private this neighborhood is, and how ingeniously these families have kept it that way," said listing agent Dia Daspetas with North Texas Luxury Homeplaces. "If you're looking for a place that only tells people your net worth once they're fully vetted and allowed in by staff, this is the perfect place."
"A few years ago, there was some deep-seated worry about a toll road and a park potentially clueing in Dallas residents to this spendy spot, but luckily, time and a rumored juggler's strike forced the city to reexamine the idea, and once again Savage Gardens is safe," she added.
While the outside conforms to a rigorous requirement to appear awkwardly normal, rest assured that doesn't hold true once you enter the home. Inside is where the imagination runs amok, flowering with details you definitely won't find on Strait Lane. Ready to look? Let's jump, shall we?
Take, for instance, this grand ballroom, fashioned from a time when entertaining properly required one. With it's sweeping, adaptable skylight letting in opaque, kind light, there is no need for Botox before a soiree, the lighting is filmy enough to shave 10 years off even the most matronly.
Just off the ballroom, a cozy sitting room waits.
A bar area defies description, and is both ornamental and practical, keeping the libations separate from the intricate hardwoods in the ballroom.
Also downstairs is a main chef's kitchen, and then a small additional catering kitchen ideal for holding bar stock.
Upstairs, three bedrooms, all spacious, await guests.
On another wing, but also upstairs, is the master suite, which is spacious, airy, and full of clever touches, including a lay-down mirror, a walk-in closet with its own basement access, an en-suite with a custom lover's toilet, and more.
Throughout the home, there are original art pieces that will remain with the home after the sale, for the new owner to enjoy.
In the attic, there are staff quarters, with a bespoke staircase leading up to it.
Additional staff quarters can be found in the finished basement, which seems improbable because the home is literally on the Trinity, but no expense was spared in keeping every level of the home free of river water.
Outside, lush gardens are cleverly disguised with dollar weed and hackberry trees. An indoor-outdoor pool is large enough to entertain many guests at once, and has custom tile work, wisteria, and a gorgeous chandelier, as well as a second bar area.
Interested in this palatial estate? You won't find it on Zillow. You'll need to call Daspetas at 214-997-3482.