When I saw this Kessler Park Italian Renaissance mansion, I did a double take. I was pretty darned sure I'd been in it years ago. Indeed, it was a sought-after photography location when I was a photo stylist. There is a very big reason photographers and filmmakers loved shooting here.
It transports you back to the Roaring '20s. If they were to remake The Great Gatsby in Dallas, this would be the perfect location. This house represents the plush, wildly successful years of the 1920s, and not a lot of these homes remain.
Listing agent David Griffin wrote the following about this incredible Kessler Park Italian Renaissance mansion at 1177 Lausanne Avenue.
"Often referred to as 'The Kessler Mansion,' this circa 1925 Great Gatsby showplace is one of the signature homes in Kessler Park," he said.
It's perhaps not a coincidence that F. Scott Fitzgerald's novel about the Roaring '20s and this Italian Renaissance-inspired home both made their debut the same year. If there were ever a home built in Dallas in the 1920s that exemplifies the prosperity and exuberance of that era, this mansion remains one of the finest examples. On over .8 an acre, the beautifully proportioned façade is framed by two elegantly designed loggias with arched columns. With over 6,450 square feet and extensive grounds, a home like this rarely comes on the market in Dallas.
In my photo styling days, this five-bedroom, four-bathroom, one-powder-bath home was a favorite of photographers. It was owned by Michael Hutchinson and was also an area bed and breakfast for a time. This is of particular interest because as Griffin and I were talking about it, he mentioned that if Caroline Hunt were alive today, and zoning permitted, this Italian Renaissance mansion could easily be a Kessler Park boutique version of the Mansion on Turtle Creek. How cool would it be to spend a weekend here?
Before Hutchinson owned this Kessler Park Italian Renaissance mansion, it was known for many years as the Hibbard House. Reverend J.C. Hibbard purchased the home 1958 and lived there until 1980. You may not remember the name Hibbard, but if you are a Dallas native, you'll know Hibbard started the Gospel Lighthouse Church, and there were many services, weddings, and celebrations held here.
The beauty of a grand, historic home that's been beautifully maintained is that there is never want of a buyer base that genuinely appreciates the stature of these iconic homes.
"Even though it's grand, it's warm, and it has a very homey feel," the present owner said. "It's been a great home to raise kids — they fill up a house, and we use every single room!"

One of the most important things about purchasing a historic home like this Kessler Park Italian Renaissance mansion is you don't just purchase history and beauty — you also purchase character. You cannot build in character. It unfolds over generations of care and love. And oddly enough, so often it's a neighbor that has eyed a property for years. When an opportunity presents itself, they take a leap of faith as the present owners did.
The home is just off the main street, separated from it by a pocket park, so there is a very private feel to the property. Every major room opens to loggias, balconies, and terraces. The ceilings are 11-feet tall, the rooms are huge, and in this part of town the homes are built on limestone, so no shifting foundation issues!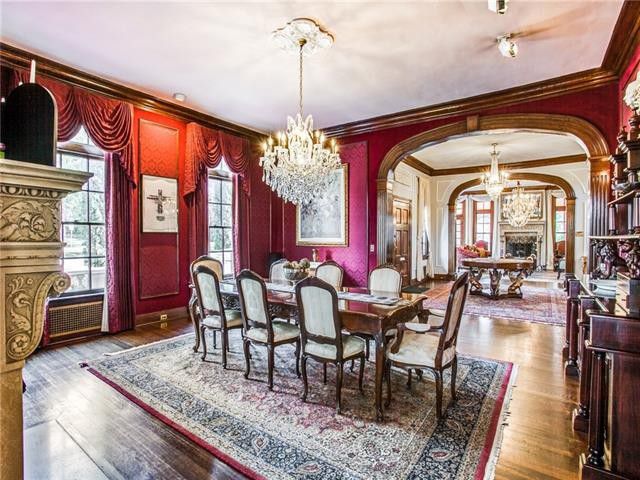 The present owners have made thoughtful updates and added a spectacular square pool. Italian Renaissance design is all about symmetry, so that is how they came up with the square set on a point.
This is a Dallas treasure, and I would not be surprised if someone in the neighborhood has their eye on it right now. At $1.995 million, this is a fantastic opportunity to enjoy life in one of the most iconic homes in Dallas.
---
Karen Eubank is the owner of Eubank Staging and Design. She has been an award-winning professional home stager and writer for over 25 years. Karen teaches the popular Staging to Sell class and is the creator of the online course, The Beginners Guide to Buying Wholesale. Her love of dogs, international travel, history, white paint, champagne, artificial turf, and Tudor and Midcentury Modern homes, and any house designed by Clifford Hutsell knows no bounds. Her father was a spy, so she keeps secrets very well! Find Karen at www.eubankstaging.com.