Things aren't necessarily what they appear at street level. From the corner of Irwin Street and Forest Park, 2301 Irwin Street appears to be just the sort of charming, one-story Craftsman-style bungalow one would expect to find in Mistletoe Heights.
I continue to marvel at the variety of venerable Near Southside neighborhoods — Berkley, Park Hill, Fairmount, Ryan Place, and Mistletoe Heights — connected one to the other, of approximately the same age, and each with its own distinctive character. This 1924 build exudes period appeal beginning with the front arched entry vestibule, which seems to push itself forward to welcome visitors from a rhythmic procession of interesting roof lines.
Inside, prepare to be wowed by carefully considered, modern updates and an unexpected 3,300 square feet of living space. The street front is deceiving — the house is, in fact, a two story. Cool pastels complement the owners' jazzy furniture. I love the sassy, tufted, velvet sofa and the modern riff on wingback chairs. Light hardwoods sustain the bright, modern ambiance.
Sparse furnishings draw attention to the generous proportions of the 18-by-16-foot dining room. The handsome glazed doors have survived nearly t10 decades. Trim is like-new crisp.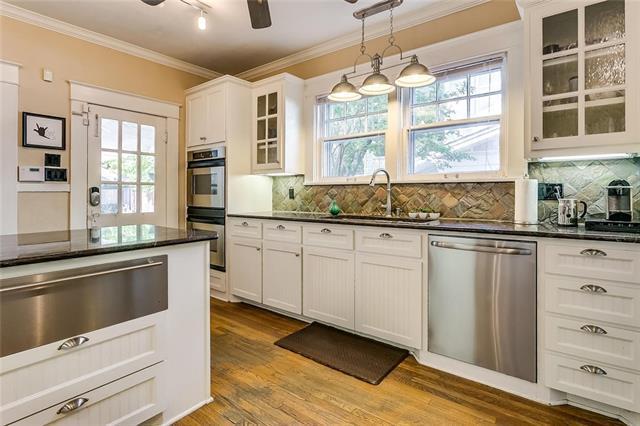 The renovated kitchen is also large for an older house and is fully equipped with stainless built-in microwave, gas cooktop, dishwasher, electric double oven, and warmer drawer.
At the back of the house is a second, informal living area. Beyond, likely an enclosed in porch, is currently devoted to office space.
Upstairs are the four bedrooms and three full baths. The master bedroom is a generous 250 square feet, but there is a guest suite of identical scale.
At first glance, one of the baths appears to be period, with its black-and-white scheme, but the space has been reworked to accommodate twin modern pedestal sinks with tub and closed-in shower stall.
And take in all of this closet space — a scarce commodity in a house of this era. At back, the structure asserts it full handsome, two-story profile. A stepped deck descends into the verdant back yard. The detached two-car garage is also at back.
Laura Thomas of Virginia Cook has priced 2301 Irwin Street at $559,000.
Eric Prokesh is an interior designer whose work has appeared on HGTV, and in books and publications including D Home, Southern Accents, House Beautiful, and House and Garden. In January 2005, HG named Eric one of the 50 tastemakers in America and D Home has included him as one of Dallas' Best Designers for 10 years. Having lived most of his life in Dallas, he now calls Fort Worth home and is one of our experts on beautiful Fort Worth Dirt. His own home on historic Elizabeth Blvd. has been featured in 360 West.