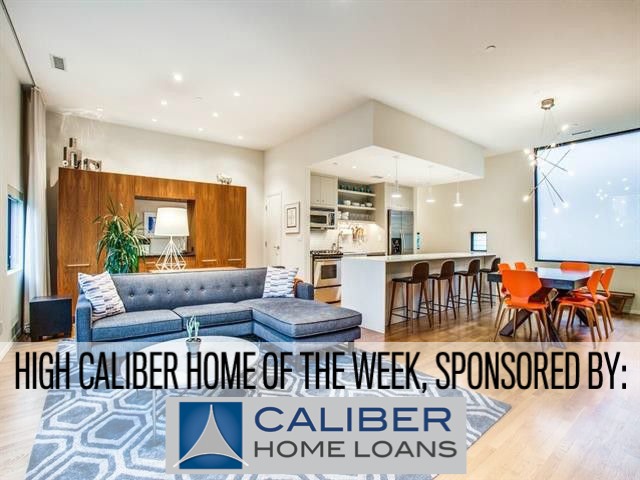 "A lot of sleek, modern design can look a bit sterile," Steve Atkinson said. But this Oak Lawn townhome maintains a warm, accessible feel even with its clean lines and open floor plan. Located at 4001 Bowser Ave. Apt. C, this three-story, two-bedroom, two-and-a-half-bath home has a great vibe to go with the stunning modern design. It's our High Caliber Home of the Week presented by Lisa Peters of Caliber Home Loans, and for good reason — it offers gorgeous and easy-to-love spaces in a key location and at a price you can't refuse!
Designed by AIA award-winning architect Russell Buchanan, the three townhomes at 4001 Bowser compose a building that looks just as great during the night as it does during the day, Atkinson noted. Apartment C, which is an end unit, has a lovely entry courtyard and cool front door with a eye-catching porthole window — a contrast to the many square windows that dot the exterior of the building.
Inside, you get even more beautiful spaces, and — surprise! — this unit's second-floor living/dining/kitchen area has benefitted from a remodel that opened the galley up for better living and entertaining.
The kitchen, which was once enclosed by the large wooden cabinet that stands in the back of the living area, now has a large island with a waterfall countertop and room for counter-height seating. Stainless steel appliances, open shelving, and great modern lighting add to the sleek, modern aesthetic. The hardwood floors, which span the entire second floor, add warmth to the space. And though the home is less than 2,000 square feet, it feels spacious.
"It may be just 1,600 square feet," Atkinson said, "but it lives much, much larger than that."
The master suite, which is on the third floor along with the guest suite, is wonderfully large and bright. I love the built-ins, which have great accent lighting. The contemporary ceiling fan is a wonderful touch, too. But it's the master bath that has a wonderful surprise. The full-sized shower and double vanity is great and makes the most of the compact floor plan, but the large walk-in closet beyond is a tremendous asset. Look at all the storage!
Of course, when you're not busy admiring the gorgeous interiors and exterior of 4001 Bowser Ave., you'll appreciate the prime location. It's in a wonderful Oak Lawn area that has plenty of shopping and dining nearby. "It's very walkable and close to commercial," Atkinson added.
Atkinson — a Dave Perry-Miller Real Estate agent — has listed 4001 Bowser Ave. Apt. C for $489,500. HOA dues for the three-unit building are a reasonable $264 monthly. What a deal! Want to get a closer look? Atkinson is hosting an open house on Sunday, June 24, from 2 to 4 p.m.