If the name Barry Williams comes to mind, you have a nose for haute design. He is one of the most exclusive interior designers in Texas. He has created exquisitely appointed interiors for a highly select register of clientele. In fact, his nickname is "the billionaire's decorator", because he has worked for six. He has no website, because he's not interested in making himself available to everyone, only to those as serious about beautiful design as he is. For years, his business even had an unlisted telephone number. As our Leah Shafer wrote:
He brings a photographer's eye, a perfectionist's attention to detail, and a historian's context to his work at Williams Design Inc., a firm he opened in the Dallas Design District in 1999.
If one could step into the imagination of interior designer Barry Williams, I imagine one would find a lavish, carefully curated place of amaranthine loveliness, as well as an endless inventory of ideas.
But oh, what if one could step into his home? What if one could buy it?
"I wanted 4350 Westside Drive to reflect my evolution of taste," he told me. "to quote Alfred Lord Tennyson: 'I am  part of all that I have met.' And I have met lots of new stuff! There has been a sea change in design in the last ten years. I could offer, for example, to deliver a gorgeous 18th century armoire to your house for free, and you wouldn't want it."
Williams has met a lot.  He claims movie sports stars, moguls, and titans as clients. When interviewing him for this post, I was talking about my love affair with Lake Tahoe, and a place there called Incline Village — very exclusive.
"There is a college there," said Barry. "Sierra Nevada College. I did every single room.  My firm has done building after building."
That's how it goes. Take a jaunt to Austin's Tarrytown or any of the toniest neighborhoods in the state and there is Barry's work. He has beautified homes from Washington to California and Oklahoma to South Texas, plus a jaunt over to Sea Island and Kiawah.  And his firm is always ready for more.
As for his home, his second in Dallas, it's all home. Barry likes to separate work from office. That's because home, for Barry Williams, is a place to have peace, and quiet reading or reflective time reading and reflection. Not a TV addict, his is hidden; none of this full screen TV on every wall routine including the bath, not one in every room.  Just one big one that shows Downton Abbey almost exclusively.
"One of my best qualities in both my life and work is that I'm a great editor," he says. "Rather than watch other people live on TV, I'd rather actually live."  He is also passionate about wellness, eats very well and works out like a pro.
Williams grew up in Wichita Falls. He graduated from the University of Texas at Austin with a Plan II Bachelor of Arts degree and headed to North Texas Fort Worth to pursue his career in interior design.
"I have known all along—there is nothing else I would rather do," he said. "My love of beautiful things is undeniable."
Antiques are his first love, evident from his home. The shell is fully paneled glazed-finished walls, hand scraped hardwood floors  and Sherle Wagner fixtures polishing off each lavoratory like a crown jewel. There are rich crown moldings, veined antique marble fireplaces, and a general appreciation of the wisdom of age. This is a home for someone who enjoys being elegant. 
Barry Williams can make the mundane elegant, not that one piece in his home is mundane. Even when he lounges in his pressed jeans, listening to opera gym gear, he carries a sense of refinement. He tells no tales.
"I'm very discreet," he says. "That's how I get and retain billionaire clients." His style is heavily classic, detailed, lush, layered, and very rich.
In Barry's book, you can never have too much elegance.  But elegance is changing.  It's not as lush and layered… its now more spare and sharp… more edited… there's more emphasis on the exact right thing over a collections of things to fill space.  Elegance is evolving as all things do. 
"Evolving keeps us current and engaged and relevant," says Barry.
All of which is beyond obvious the minute you walk in. The home just breathes elegance. In fact, you stand a little taller in Barry's home.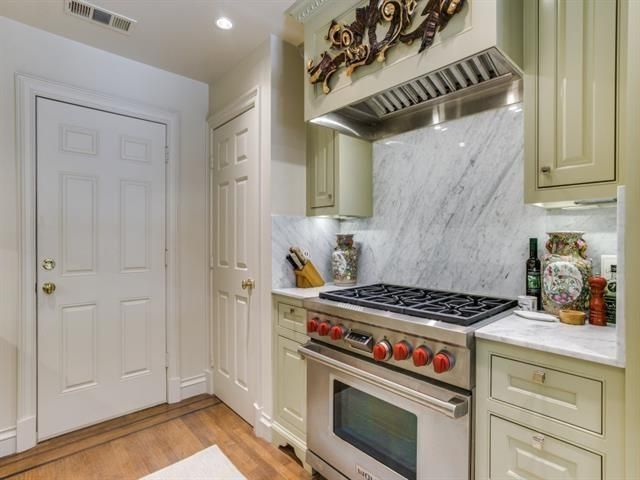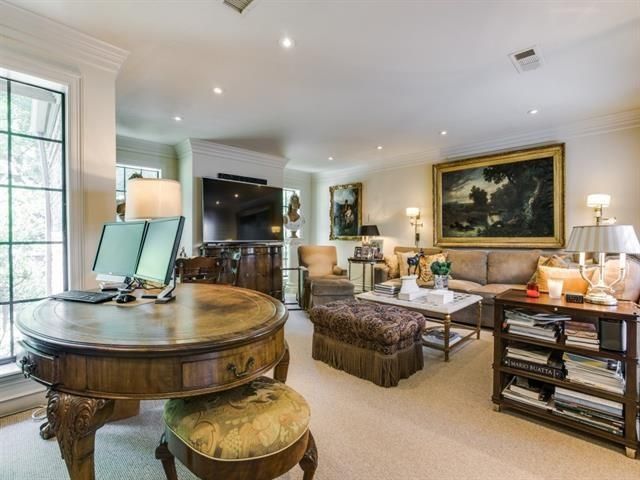 The home is built around a light-filled central courtyard, with slate pavers and an imposing Italian limestone fountain.  
There are three floors. The first holds the formals, both featuring fully paneled, glazed-finished walls. There is the kitchen and breakfast room.
The kitchen is respite with Farrow and Ball cabinets, white Carrera marble counters, a top of the line Wolf gas range, Subzero and Asko appliances.
The second floor has a spacious den plus an incredible master suite and guest bedroom.
The third floor is Barry's an enormous climate controlled outfitted closet to accommodate his not for the faint of heart wardrobe.
Even the double attached garage has a bit of a swagger: it has a custom stenciled sealed floor and baby's butt smooth walls, so it doubles as party space !
The central courtyard is filled with light and a pleasant fountain. The home has abundant storage throughout.
Where is Barry going next?
"I want to evolve and grow," he says. "My goal is to live in a different neighborhood. Highland Park is so very  proved too traditional for a single guy with no kids and high energy life," he says. "I plan to move to the Dallas Design District"
There he seeks a space large enough for a work/play environment with zero overlapping.
4350 Westside Drive is listed with Kyle Crews and the Allie Beth Urban Team, this home is being marketed at $800,000.
Oh and everything inside is for sale, too.