So this is all very hush hush, because almost every agent involved in this transaction has had to sign an NDA, very typical when you work with a star. So NO ONE is talking … except the neighbors.
But that's what happens when you have a celebrity like Dr. Phil McGraw move into the neighborhood.
His new Preston Hollow neighbors tell us Dr. Phil and his wife, Robin, are indeed their new neighbors on Deloache in Old Preston Hollow. The famous couple snapped up a gorgeous newly built estate a few weeks ago, officially making Deloache rival Strait Lane as the most celebrity-saturated street in Dallas.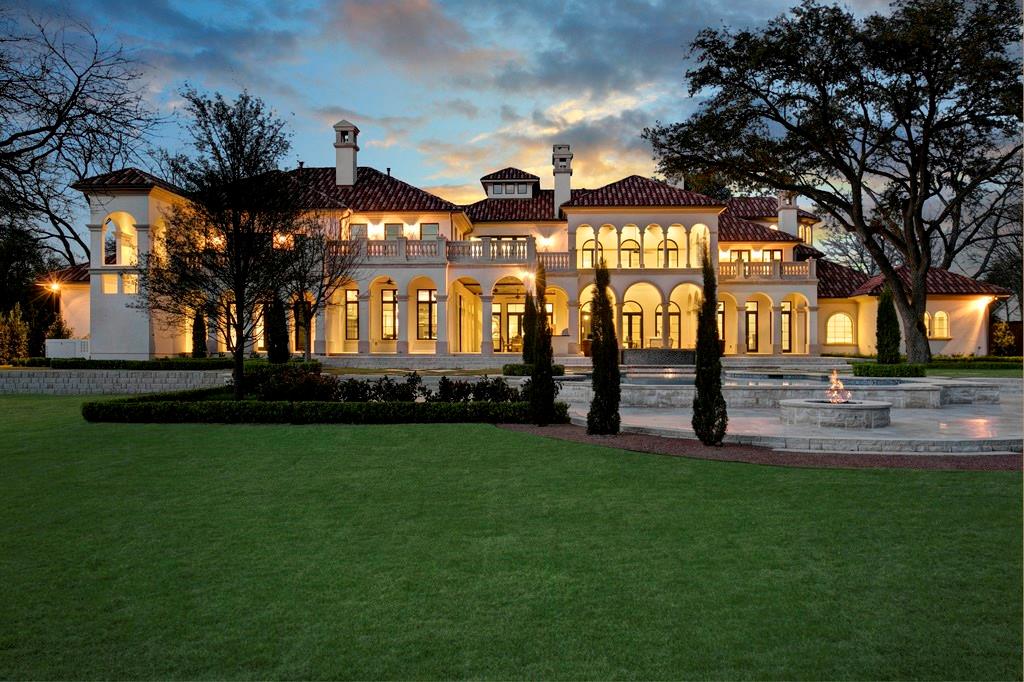 We have long lusted after this estate, from the moment the classical Italian Mediterranean designed by architect Patrick Ford was built in 2017. The showpiece home is a perfect home for the McGraws, transitioning back to Texas from California.
First of all, it's huge: the home has more than 14,000 square feet, seven bedrooms, eight full baths plus five half baths, seven living areas including a media room with stadium seating, a lounge with built-in bar, wood-paneled library, a family room with ceiling timbers, and a basement wine cellar that accommodates 5,000 bottles.
The residence also has an elevator to all three floors, multiple outdoor living spaces, and a swimming pool with spa. Once listed for $13.95 million the home was most recently listed with Kyle Crews at Allie Beth Allman for $11.995 million.
Mark Cuban lives on Deloache, as do several prominent names including Nancy Nasher and David Haemisegger, who run NorthPark Center (and may be building down the street), developer Richard Enthoven, attorney Bill Brewer, and Jim and Julie Turner.
Could it be that Dr. Phil, who was born in Oklahoma, returned to Texas because of California political shenanigans? If so, that makes him one of about 700,000 Californians moving to the Lone Star state since 2008.
Or maybe it was our great homes and he wants to work from home? Dr. Phil came under a bit of fire (who hasn't?) this April for questioning stay-at-home restrictions put in place to contain the spread of COVID-19 in a Fox News appearance, worrying as a clinical psychologist about all this isolation's effect on the public's mental state.
In an appearance on Fox News' The Ingraham Angle, Dr. Phil suggested it was dangerous to shut down the economy in order to stop the COVID-19 pandemic.
"The fact of the matter is 40,000 people die a year from automobile accidents. 480,000 from cigarettes. 360,000 a year die from swimming pools, but we don't shut the country down for that. But yet we're doing it for this?"

Dr. Phil McGraw
The McGraws' move is great news for Dallas.
Though he's not a billionaire — according to internet research, Dr. Phil is worth about $440 million — he joins the surge in ultra-high net worth folks moving to D-FW according to a report released by Wealth-X: D-FW saw a 17 percent jump in super-rich residents from 2018 to 2019, making DFW home to 3,165 ultra-high-net-worth individuals last year. That makes the area No. 10 among ultra-wealthy cities in the world.
I'm a huge Dr. Phil fan.
He's real, forthright, and espouses common sense. You may recall he got his start in Texas when his jury consulting company advised Oprah Winfrey with her successful defense of the lawsuit against her by the Texas cattle industry. If there is one thing we need more of in this city, it's mental health care, and my head is already swimming with ideas on the ways Dr. Phil and his family can become involved.
Would Dr. Phil, who is 70, consider a Dallas City Council run? His home is smack in the heart of District 13, and Jennifer Staubach Gates is termed out next year. Not only do we need a celebrity at the horseshoe at City Hall, even more vitally: we need a psychologist!