It's not news to us, but for reasons that longtime followers will remember, we're happy that Steve Brown finally broke the news of the Malouf estate sale on Strait Lane selling to Dallas developer extraordinaire Mehrdad Moayedi's Crescent Estates Custom Homes. The 4.3-acre Strait Lane estate which was , as Candy told us so long ago, actually two estates knitted together creating 37,000 square feet of mansion space with 10 bedrooms, 22 bathrooms (oh the Tidy Bowl!), 10 living areas and four dining areas. It has a 10-car garage, two basketball courts, a tennis court, a gymnasium and a bowling alley.
And, of course, a waterpark complete with lazy river.
As we know, Mehrdad also bought the Crespi Estate on Walnut Hill Lane, where he sold the main house to one of the Cox family members and is developing the property surrounding it into luxurious estate homes, three already underway.
Also of note: Candy says Mehrdad has purchased and flipped a number of homes on Strait Lane, including one once owned by Phil Romano. He apparently plans to do the same with 10711 Strait Lane after a little sprucing. Oh and the new owners are keeping the waterpark, absolutely!
As you may know, Candy has a little bit of history with the sellers, so when we found out that a buyer might be found for the estate complete with backyard waterpark once listed for $32 million (in 2017), we were happy to sit on our hands and let Steve do the talking.
And once Mehrdad's name is on the title, we'll have a walk-through: Brad Oellermann has promised. Let's look at all the agents who tried to sell this iconic Dallas property with it's own real waterpark in the backyard, just like Celine Dion's. Really, it's kind of cool. How many cities can boast they have homes with waterparks in the backyard? What did buyers say when they saw the waterpark? The home was first listed for $32 million. We spoke with the last agent who listed this home, and almost got it sold, the wonderful Roxanne Taylor of Engel & Voelkers.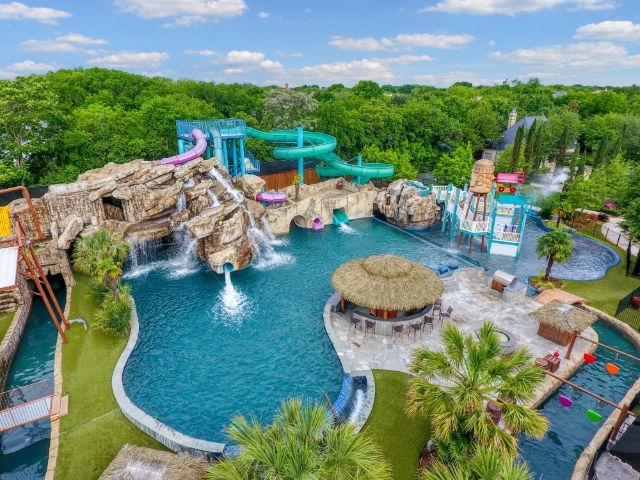 Agents who have listed 10711 Strait Lane:

Roxann Taylor, Engel & Voelkers 5/8/2019 : $23,000,000

Y+A Real Estate and Asset Management 1/30/2018 : $23,950,000

Allie Beth Allman 9/12/2017: $27,995,000 reduced to $23,950,000

Y+A Real Estate and Asset Management 2/28/2017: $32,000,000
Roxann Taylor was the last, and final, listing agent for 10711 Strait Lane. Turns out, she had sold a home in Colleyville for Dr. Malouf 18 years ago. Roxann, who is with Engel & Voelkers, is one of the global real estate firm's top office advisors, a distinction bestowed only upon agents who have sustained at least $25 million in production of gross closed commissions. We are talking tip top agents in each one of the firm's offices, agents who have the kind of clients and clout who could well afford a $23 million dollar home.
"There are 188 Engel & Voelkers private office advisors globally with 121 in North America and 67 outside of North America. I held a Broker's Open House event at 10711 Strait Lane for some of these top global advisors," says Roxann."They flew in to Dallas from all over the world, just to see this property."
What did these jet-setters think of the house, I asked, especially the waterpark?
"The waterpark," says Roxann. "Many of them couldn't believe it, but they said it was nice for the kids of any age that you didn't have to leave home to go on a vacation."
Roxann's marketing through EV did bring a potential buyer (from out of town) with a lot of interest in the property, who wrote an offer, and after weeks of negotiating it did not manifest as a sale though they were within a $1.5 million delta.
"We came very close to putting a deal together," says Roxann, who knew that Mehrdad had also shown interest in the property. "But still, it did not quite work out."
Her listing contract on 10711 Strait Lane expired in October. But stay very tuned: there is more to come on Engel & Voelkers as the company's Park Cities location opened up this year as the firm's fourth shop in the Metroplex.
"With locations in 33 countries around the world," says Roxann, "Engel & Voelkers is truly the global presence that makes a marked difference in marketing upper end properties." Like 10711 Strait Lane: all photographs are courtesy and exquisite work of Epic Foto Group.