So sometimes I worry that I won't find something to write about for the Wednesday WTF — and then, almost like some really messed up benevolent being out there is invested in this weekly column, someone sends me some house that is a classic example of everything wrong about decorating in the 70s.
Like this week's WTF, for instance. It looks fairly ordinary — nay, even nice from the exterior shots.
And it's got a really lovely pool. See?
But things at this Peoria, Arizona, home quickly go awry when you start clicking through the interior photos. We assembled a panel of people who enjoy torturing themselves (also known as this writer's friends and coworkers) to dissect what we saw. So let's review how Jo, Karen, Kristin, Amanda, Andrea, Lindsey, and Mia felt about this 70s time capsule.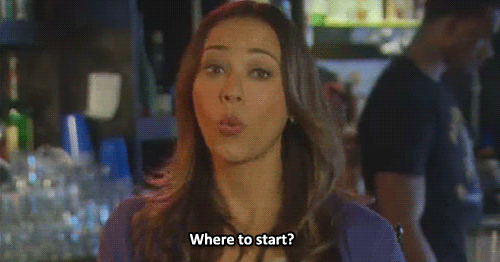 I guess we should start at the beginning.
Kristin and Amanda were reminded of the new popular horror series, "The Haunting of Hill House."
Kristin:  "I think I've seen the bent neck lady on that staircase."
Amanda: "Yep."
Mia: "Oh hi,  1970s, welcome back we miss you not —  smoky quartz coffee table holy sh–. And the wall full of obvious repeating pattern wallpaper is just…"
We scroll through a few more before everyone just kind of unloads on the same picture, almost simultaneously.
Karen: "Oh my God, I don't know what's the most horrendous the mustard tufted vinyl bar, the coffin liner shower curtains, or yep it's the mirrored ceiling in the bathroom because you just can't have enough naked!"
Me: "That mirrored ceiling is in case you want to do circumcisions on the side."
Karen: "Heck, I bet Walter (Candy Evans' husband, an OB/GYN) could do a C-section in there."
Me: "Chandeliers over bathtubs give me the heebie-jeebies. I mean, what if it falls in with you?"
Jo: "There are no wholesome reasons why someone puts a mirror over a sunken jacuzzi."
Amanda: "Wait a minute…is that a mirror above the bathtub?!!! What is that about?!!"
Andrea: "Seriously… that took a turn from kitschy little old lady house to cheesy sax music playing in the background swinger/porn house really quick."
Mia: "The spare bath is OBVIOUSLY a set from Boogie Nights, sans Marky Mark's gifts. Definitely contemporaneous with that era. I'm glad it's been cleaned, to be honest. I'm not gonna THINK about what that poor mirror has witnessed."
Me: "I also have questions about this room, because there is a lot going on here. Huge safe? Mismatched bedding? Orange carpet?"
Lindsey: "One, these pictures look like it smells. Two, there is def a body in that safe."
Mia: "After that mirror, nothing shocks me. Not the rust or mustard carpet nor the top-border wallpaper. Burn it down."
But the home is also under contract, so clearly someone sees the potential in this swinging 70s pad. What about you all — is it a gut job, or a gentle massage? Want to see more pictures? Click here.