When you think of a bed and breakfast, you probably think about sleeping gingerly on someone else's delicate antiques and praying you're not the one who pulls the chain plumb off that old-fashioned toilet, or you know, irritating a few ghosts.
Oh, maybe that's just me?
Still, I know there are people that go to B&Bs to relax and eat breakfast with strangers and soak in claw foot tubs. And maybe it really is just me that has a hard time relaxing in a place where someone's saloon-keeper great-great grandpa is staring at me from a tintype above the bureau, but I can't help but think that people who stay at this haunted B&B in Brumley, Missouri, might be a special breed of folk that can relax in the face of anything, because I'm reading the website and it says, "LEARN MUCH MORE ON A TOUR WITH GREAT HISTORIC INFORMATION AND STORIES, SUCH AS THE HOUSE'S ROLE IN THE SPANISH FLU PANDEMIC AND ITS MASS GRAVE."
Hold up. Mass grave? What the what?
So see, the Haunted Castle House is a Queen Anne home that (since being built in 1850) has been a doctor's office, a hospital, a funeral home and a morgue before eventually becoming a B&B for people who like getting the uh, stuffing, scared out of them.
"Surrounded by a pioneer cemetery and a mass grave, the Castle House Bed & Breakfast is one of the most sought-after locations for paranormal investigation groups from around the world," the website says.
Is it normal to be this proud of a mass grave?
It's also been the subject of an episode of the Travel Channel's "The Dead Files." Oh hahahaha look, the description of the episode sounds very relaxing and vacation-y, too.
"Steve DiSchiavi and Amy Allan travel to Brumley, Missouri, to investigate paranormal disturbances keeping customers awake at an historic bed and breakfast," the description reads. "While Steve's investigation reveals a surprising past involving medicine and religion, including a horrific murder-suicide, Amy encounters several translucent entities, one of which is stalking the living from within the building's walls."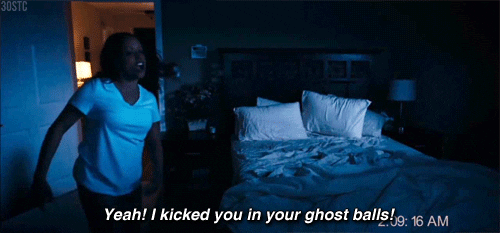 And admittedly, it's been the site of several tragedies, including the sudden death of the original owner's wife, who loved to entertain and died right before a big party. She is rumored to be haunting the house in a fancy dress.
Dave Harkins, Director of the Ozarks Paranormal Society, told Realtor.com that sometimes she screams or cries, too, if you're into extremely emotional ghost women.
There are also several graves of Civil War soldiers on the property, some known and some unknown. When another doctor owned the home around the time of the Spanish Flu epidemic, the hospital he opened at his home to tend to victims also meant that several people were buried there when they succumbed to the flu.
Harkins gives details of his experiences investigating the paranormal activities at the home here.
The house also apparently has connections to Jesse James and was the birthplace of music legend Lee Mace.
"Named the most haunted house in the Midwest and one of the top ten places to visit at the lake," listing agent Joyce Wheeler writes.
The current owners have completely renovated the home and filled it with antiques, bedding, dishes and everything else you'd need to continue operating as a B&B, "including future reservations," Wheeler says.
"Current owners offer tours but (there's) plenty of income opportunity if new owners wanted to add murder mystery dinners, weddings or even tea luncheons," she added. The home can include the LLC, the website, Facebook page and toll-free number.
Want to buy it? Let us know. I mean, I won't be visiting you but I do have questions.