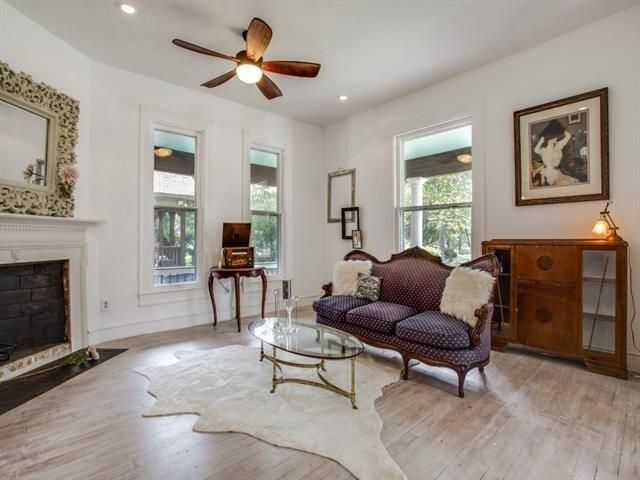 When some people look at an old house in disrepair, all they see are its problems. But for one Dallas Realtor, old Dallas homes are all about possibility, instead.
Kristen Martin says she's a kindred soul with old houses, getting to know them, even naming them as she restores, repairs, and renovates them to a state even better than what they were originally.
She's a Realtor with The Michael Group, and she's passionate about real estate. But the properties that truly inspire her are the ones she's buying and flipping.
A few weeks ago, we featured her old soul Victorian flip at 4317 Worth St. in our CandysDirt.com Dallas open house roundup. It is sensational! We had to know more about this woman who can make old houses sing again.
"I go in the houses and just feel them out—[the house on Worth Street] was a mess but I got it flowing well because I talked to the house and it talked back to me," Martin said. "I have renovated three in the last year and before that, I had done three with other people."
She wears rose-colored glasses, because all of her flips have been messes when she found them. The Worth Street house, which she purchased in April, was built in 1903 and was a little more than "rough around the edges." The foundation, plumbing, electric, carpet, and parquet were all bad and needed replacement. The kitchen was a gut. It needed an HVAC. Cosmetically, it wasn't much to look at, either, with an 80's vibe going strong.
But Martin saw past all that.
"I had a feeling when I walked into it—the fireplaces and windows and wraparound porch—my jaw dropped," she said. "I'm ahead of my time in that neighborhood because the area hasn't made a whole revival. It's coming back around but throughout the years, everybody has just looked at Swiss Avenue and Junius Heights [nearby]."
The neighborhood Martin is referring to is Peak's Suburban Addition Historic District, an area of about 22 city blocks. As Preservation Dallas notes, it is one of the few relatively unaltered pockets of historic buildings remaining in Old East Dallas, and one of the oldest neighborhoods in the city.
"It's one of the first subdivisions in Dallas, established in 1855—I went to the library and they have the census reports there, looking for info there, going through computers, looking at maps," she said. "I'm not a history expert, but I got into it when I started the restoration."
What she found out made her fall all the more in love with this old Victorian, with five bedrooms, three full bathrooms, one half bathroom, and 3,410 square feet on two stories.
Martin is committed to using as much old and reclaimed material as possible in her renovations. In this flip, for instance, she used the home's original shiplap for many of the walls and ceilings. She restored pocket doors. Refurbished hardwoods. Polished fireplaces. Scrubbed tile.
"Not only do I use a lot of reclaimed materials, all the antiques in the Worth house are from estate sales in the immediate area," she said. "People never leave that area—the youngest neighbor on the block has lived there 10 years and I needed to keep people that have lived in the area and East Dallas in that house."
But some things just can't be saved. The kitchen, for instance, needed a complete overhaul to be functional and appealing to a modern buyer. Martin carefully chose what to include and created a dreamy space that marries the look of old and new: quartz and butcher block counters with a black-and-white graphic tile backsplash. A white farmhouse sink and brick accents next to stainless steel appliances.
The same is true for the bathrooms. In the master, she mixed that same graphic black-and-white tile with an antique dresser-turned-vanity bought at a neighborhood estate sale. She is conscious of history and its place in her houses.
It was listed Sept. 20 by Martin for $599,900.
Martin has worked in other historic Dallas neighborhoods. Her flip at 9014 Daytonia Ave. is in Little Forest Hills, pictured below. Here she took a closed-off 1947 home and turned it into an enchanted Craftsman cottage.
"I hate how people come in and tear down because there's so much history and love that's happened in these homes," she said. "It's like throwing your grandmother away—she deserves to stand there."
It sold in March of this year after 17 days on the market with a list price of $279,900.
The first flip Martin called all her own was at 1022 Cordova St. in Hollywood Heights/Santa Monica, East Dallas (pictured below). This 1930 traditional is located in a historic district and Martin aimed to keep as much original as possible.
What resulted was an open, appealing space with great flow and happy harmony between old and new elements. It sold after 16 days on the market with a list price of $349,900.
Now she's working on a 1923 Craftsman off Davis and Montclair near Bishop Arts in North Oak Cliff in the Rosemont addition.
"It's an amazing brick bungalow with one of those huge porches, and I'm exposing the shiplap in that as well," she said. "It's getting all new plumbing, foundation, AC, electric…I'm trying to get as much history as I can on the home."
Martin isn't doing this to get rich, but for the love of the houses.
"Sometimes I don't even make that much money on the rehabs, but for the people who get it and how happy they are, it makes me feel wonderful," she said.
"I want to renovate homes and keep the history of Dallas around as much as I can," Martin continued. "This is my calling, this is what I want to do and be and it took me forever to find this."