When people hear about "view protection" they think of silver spoon high-rise dwellers not wanting to share "their" sky. As a tin-spoon high-riser, there's truth to that. Certainly, I checked nearby zoning to see what could be built in front of me (few do until it's too late).
But what about views towards the urban forest of concrete, steel and glass? Are those views worth preserving for all residents and visitors? Skylines are certainly signatures, as the opening credits to the 1980s TV show Dallas proved.
Think about Washington, D.C., not allowing buildings taller than the capitol dome. Think about Paris where the Eiffel Tower can be seen for miles because of height restrictions. How about Honolulu in the 1960s abandoning plans to obscure Diamond Head behind a wall of high-rises? In my Chicago hometown, there are certain buildings that are considered so critical to the visual fabric of the city that views of them can't be blocked from Lake Michigan – even when those buildings are located blocks inland?
Chicago Protects Its Classics
Chicago's Tribune Tower is one of those buildings. Built in 1925, its neo-Gothic form was the winner of a design contest that included entries from modernists like Eliel Saarinen and Walter Gropius. Located four long blocks back from Lake Shore Drive it can be readily seen from the lake because the city leaders deemed it worthy of a protected view called the Ogden Slip view corridor.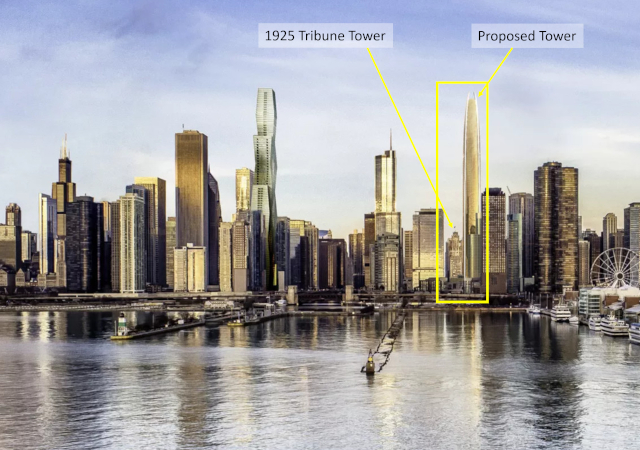 Now the Tribune, like so many other urban city newspapers, has moved away into smaller quarters. Luxury condos now mock an era that valued the duty of maintaining an informed citizenry.
The back of the tower held the printing presses within a low-rise building. Developers being developers, they want to build a tower on that low-built parcel. But as you can see above, that tower can't block the public's lakeside views. Nearly a century old, the Tribune Tower remains a staple of the Chicago skyline.
Dallas' Views
When I first started traveling to Dallas for work in the late 1980s and 1990s, I loved the drive into the city from the airport. Take the south exit to TX-183 and pass the old stadium before seeing a first glimpse of Dallas' lit-up skyline spread out in the distance as I took the curve onto I-35E. That view is gone – stolen by various blah buildings in Victory (The Katy and Alexan) and the Design District's tedious AMLI tower (in contrast to the AMLI Fountain Place which at least blends with I.M. Pei's original).
I wonder if Dallas Plan Commission or City Council ever contemplated preserving that I-35E view for Dallas residents and visitors? I doubt it.
Was there discussion of the merits of One Arts Plaza's slab blockading of downtown views from the east? I'm similarly doubtful.
In both these examples, neither building adds architectural verve to the city to offset their thefts. On the other hand, while I've always hoped it would be bolder, Museum Tower still adds to the visual language of downtown (less so the Stewart building dumped on the Myerson's yard, nor the coming Atelier that surround it).
There is no question Dallas' downtown needs more visually interesting skyscrapers, but it also needs to preserve its citizens' views of existing impactful buildings. I continually hear City Hall say they can't define or demand pretty architecture – fine, if a bit of a cop-out. However, it's another thing entirely to protect its citizens' enjoyment of what exists. In many ways, downtown is an architecture exhibit with few studs and plenty of duds.
Classically Dallas
Should the Reunion Tower ball ever be blocked?
Should the Bank of America Building (the green building) ever be blocked?
Should Renaissance Tower (the "X" building) ever be blocked?
Should Fountain Place ever be blocked?
Should JP Morgan Chase Tower ever be blocked? (The blue bug logo, yes)
Should the 1943 Mercantile National Bank Building continue to be blocked?
Should the 1923 Magnolia Oil building been better protected?
Views in The Public Realm
Other cities understand the intrinsic value of enjoying views of their natural and manmade wonders. I think there is a discussion to be had about view preservation for Dallas residents and visitors. As you could see in the image above, the past decade's development has radically altered and obscured the visibility of the Dallas skyline from points across the city. The dreary, trite buildings now blocking our enjoyment act as shrouds over the canvas of the city.
Interestingly, race plays a role here. The best preserved views of the Dallas skyline are from southern Dallas simply because developers have never invested in view-altering high-rises (or much of anything) facing brown and black Dallas.
Ironically, all that northern high-rise money is the self-inflicted wound obliterating white Dallas' skyline views.
UPDATE: After this column ran, I received a tip on a zoning case illustrating my point. Hop over for a read.