So you know this scene in the seminal 90s flick, Showgirls, where someone asks whatsherface what designer she is wearing and she looks smug and says, "I bought it at Ver-SAYCE?" That has nothing to do with what this week's Wednesday WTF is about, I just wanted to bring it up.
OK, maybe a little. Maybe it has a little to do with it, but only tangentially, and only because it does have something to do with a designer — just not VER-sayce.
See, I clapped my peepers on this condo in Beverly Hills, and I realized that sharing is caring. Now, I have to tell you that you can no longer buy the condo I am about to show you, but you will probably be able to buy it as a blank canvas at a later date.
But feast your eyes on this.
Yes, I know it looks like Cher Horowitz, Barbie, and a Sam Moon gold cardholder decorated a condo. Yes, I was also, like you, unaware that you can get carpet with the Chanel logo on it.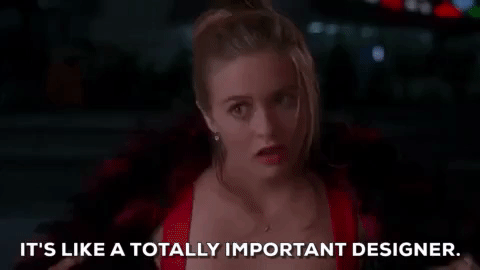 Yes, I do realize that even Chanel carpet will get gross in a bathroom.
Yes, I also realize that the kitchen is the most understated room in the house, but still has a chandelier.
(Sidebar, am I the only one who has trouble not saying "chandelier" the way Sia sings it?)
According to Realtor.com, Keller Williams agent Jessica Barouch talked the owners of the condo into listing it as is because she thought there might be a buyer out there in the market for a Chanel-bedecked abode.
From the listing:
"Nested in the heart of Beverly Hills, this one-of-a-kind newly remodeled 2-story townhouse is not for the faint of heart. An extraordinary and never-before-seen combination of over-the-top dcor and elegant Old Hollywood vibes, this work of art boasts a movie-set flair ideally suited for influencers, socialites and YouTubers.With 2, 100 sq. ft. of space at your disposal, this townhouse-style condo offers a master suite with 3 walking closets and a second bedroom with one walking closet perfect if youre looking to pull off picture-perfect outfits every time you head out. The 2 and 1/2 bathrooms and kitchen are also newly remodeled to match the distinctly glamorous look of the property."
The owners gave her two weeks to sell it that way, and if it didn't, they were going to strip it back down and provide the next prospective buyers a blank slate.
Well, it's not sold, and the listing is down, so we're assuming that this home with all the designer touches (seriously, there isn't a room that doesn't have something with a Chanel logo on it) is going to be much more Plain Jane when it's listed again.
Want to see more? Click here. Was the agent right to try to sell this somewhat taste-specific house? Let us know. Want to see more Wednesday WTF? Here ya go.