Ready for another recap of Flip or Flop Fort Worth? After more than a month of episodes, I can honestly say that of all the Flip or Flop shows, Ashley and Andy Williams are probably my favorites — and not just because they're in the DFW area.
Their backstory is so appealing, their commitment to fellow veterans is wonderful, and they are just so much fun to watch.
Before we begin, I'll answer some reader questions (as usual).
Jamie writes, "I was wondering the interior paint color they used for the final showing of the house.  It was a light grey, if anyone knows?"
After checking around, I was able to confirm that the grey paint you're looking for is Kelly Moore Gray Ghost. The number is KM4884. You can find the color here.
Joyce writes, "Can you tell me where the kitchen wall tile came from in 4-week rehab?"
I am fairly certain that this Eternity Mix Ceramic Mosaic tile is what Ashley used on the kitchen backsplash. And bonus, at Floor and Decor it's actually a great bargain at $1.99 a square foot.
Welcome to the Jungle! The landscaping in tonight's episode has a mind of its own.. #FliporFlopFortWorth #TuneIn pic.twitter.com/b816mgG9tF

— Ashley and Andy (@AshleyandAndyFW) December 7, 2017
This week's Flip or Flop Fort Worth episode starts as they all start – Ashley and Andy are in the car, on their way to take a look at a home that is about seven to eight minutes from downtown Fort Worth.
"The same family's owned it for over 54 years," Andy said as they drive up.
I'll be honest, I was kind of hoping against hope that it was the fairly safe looking two-story house next to the overgrown Grey Gardens cottage to the right of it, but no, Andy is taking Ashley to see a house that even Little Edie would probably run screaming from.
"What have you brought me to?" Ashley asks, incredulously.
Pretty much everything about this house is bad on the outside. Bad roof, uncontrollable landscaping, bad windows …
"At least you can see the potential," Ashley says.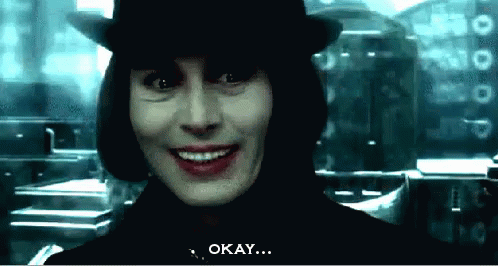 And then they walk in. I can smell it through the TV screen. It smells like unflushed toilets and things that are rotting.
"The smell is the first thing that hits you," Ashley says, adding that the house "is a bit of a dump."
There are cracks in the walls, there are window units everywhere which means they'll have to install HVAC, and the floors are jacked up from water damage and exposure.
"It gets worse, every room," Andy says, calmly. Again, I learn that I can't be a flipper because I'd be hyperventilating into an empty Whataburger bag.
The kitchen is a disaster. Andy estimates that they would need to put about $20,000 into the kitchen. Ashley's plan includes opening up the space quite a bit and adding a butler's pantry. Girl loves her big pantries.
The bedrooms are a decent size, and there's a landing between them and the master bedroom, as well as a good-sized mudroom/laundry room.
My notes: "Is Ashley pointing at things with a golf club or a Swiffer sweeper?"
The last room is the master suite. It's scary. It's also clear that someone has been availing themselves of the shelter while it's sat empty.
"I think we found a squatter there," Andy said.
The en-suite bathroom is small and apparently smells horrible. Andy estimates they'll spend about $6,000 to $10,000 in the master suite.
"Let's go outside to talk about it because I'm about to throw up," Ashley said.
Oh, honey. The backyard. Indiana Jones called and even he doesn't want any part of that backyard.
My notes: "HOLY CRAP (possibly literally). You can't see the yard."
They needed a survival line to get back to the front yard #FliporFlopFortWorth

— Cindy Sedlock (@CLAWS1965) December 8, 2017
You're not wrong!

— Ashley and Andy (@AshleyandAndyFW) December 8, 2017
So when they make it out to the front yard again, they begin talking numbers.
"There's no way that this house is worth $200,000," Ashley says. I agree, unless we're saying that the owners are going to pay them $200,000. Then it's worth that.
Andy says the comps are around $360,000. They call the owner, Richard, and offer him $185,000. Richard wisely realizes that's probably the best he'll get, and takes it.
"And now let's go. I need to go take a bath in bleach," Andy says.
The next scene would normally be demo, but there is so much squatter crap and debris that demo has to wait.
"Normally we can demo a house in a whole day, but we're gonna lose a whole half a day cleaning up all this junk," Andy says.
A few hours later, Ashley arrives to see Andy sitting on the porch. "I am beat," he says, and then shows her a map he found in the house — of Iraq. The two bought their first home in Baghdad, so it got them reminiscing.
They bought their first home in Baghdad! #FlipOrFlopFtWorth #FlipOrFlopFortWorth

— MBAttitude (@JaiSayWhat) December 8, 2017
Contractor Blake and his crew survey all the windows. Andy had hoped that they'd be able to save most or all of them, but Blake has his bad news face on.
Turns out, he can only salvage about half the windows. "You can't sell a house with half new and half old windows," Ashley says.
Andy agrees, and they decide to pony up the $6,000 to $7,000 to replace all the windows.
Inside, post-demo, the house already looks so much bigger and airy with the walls down. Ashley notices that there is a lot of shiplap all over the house, and brews up a plan to make it a design feature.
"What if we do an accent wall? Ashley said, saying they could strip the drywall off one part of the living room and expose the shiplap for an accent wall.
"For this house in this neighborhood, that's actually a pretty cool design feature," Andy.
We get a peek at the outside of the house. Even without the landscaping done yet, and the porch still a work in progress, the new paint and windows really make the house look less like a hovel.
@AshleyandAndyFW New windows and paint is making this house look like a home alreay. Call the landscaper stat! @hgtv #FliporFlopFortWorth

— I_AM_SHELIA (@smspann) December 8, 2017
And now it's time for Ashley to show off the finishes. She shows Andy a whole raft of black and white finishes for the kitchen, hall bathroom and master bath.
"It's super glamorous," Ashley said. Twitter is not sure about that hall bath tile, but I'm willing to wait to see it on the wall.
Love Love Love the tile @AshleyandAndyFW @hgtv #FliporFlopFortWorth

— Gail Brown (@worcestertales) December 8, 2017
But some bad news also comes — they discover that the shiplap on the proposed accent wall in the living room has been patched and damaged.
"We just lost an entire accent wall," Ashley said. The drywall will go back up, unfortunately.
And now we get to see the butler's pantry. It has glass French doors, which makes Andy worry about what homeowners will want.
"Shouldn't these be frosted?" Andy asks.
Ashley explains that the upscale doors he's talking about are a lot of money. She plans on etching the glass herself.
She shows how to apply a stencil and brush on the acid etching solution, and then wipe it off. Voila — frosted windows.
"I saved us about $300," she says.
Right before staging is set to start, Andy notices a bit of a bounce in the living room. He and Blake talk it over, and decide to put another beam under the living room floor for stability.
Then staging and landscaping begins – at the same time.
"Today is completely bonkers – we have landscaping going on, and my stager is here," Ashley says.
Her stager suggests using the original windows as artwork in the dining room, which looks really cool.
After the landscapers and stagers leave, the two walk the house before the price it. I have to say that I love this part – all the before and after pictures show how much even just new paint can do wonders in some of these rooms.
Plus, you can tell Ashley and Andy actually like each other. This is a fun couple to watch.
Andy points out how the finishes and cleaning work have made the family home a family home again.
"You can really see how cozy it is," he says.
That kitchen is gorgeous. Seriously, it's so big and spacious, perfect for a family — but also a little glitzy.
That kitchen is amazing! #FlipOrFlopFortWorth @AshleyandAndyFW

— mo. ‍♀️ (@QueenFleaux) December 8, 2017
And the butler's pantry doors look expensive and high-end after Ashley's money-saving tricks.
"They do look expensive," Andy says.
And that squatter-inhabited master suite looks worthy of a hotel — lush finishes in the bedroom, and a bathroom that looked tiny is now home to both a shower and a tub.
And the hall bathroom looks so much better. I'm still a little on the fence about that tile, but I'm leaning toward liking it. 
They work the numbers next. After buying the home for $185,000, they put about $91,000 in renovations into it. They decide to list it for $375,000, and about four weeks later sell it for $365,000.
So what did you think? What about that hall bath tile? Mourning the messed-up shiplap? Let me know!
Bethany Erickson is the education, consumer affairs, and public policy columnist for CandysDirt.com. She also has opinions about TV shows, lima beans, orders that are appropriate for the drive-through, driving to Kansas, rats, Grey Gardens, and wine. Contact her at bethany@candysdirt.com.