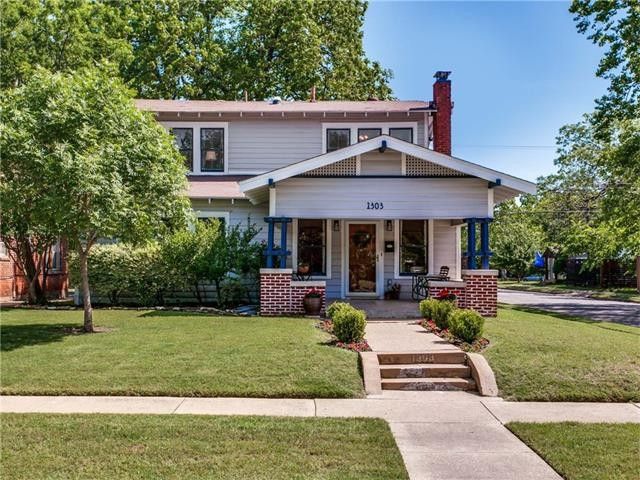 Some of the most popular neighborhoods in North Oak Cliff are sought after for their proximity to the Bishop Arts District. That's great and all, but for some of us — me included — I'd prefer less crazy and crowded digs.
That's what's wonderful about the Kings Highway Conservation District, which is a terrific little pocket surrounding the eponymous street, at the northwest corner of Davis and Tyler streets. There you'll find 1303 Kings Highway, a listing from Briggs Freeman Sotheby's International Realty agent Jenni Stolarski.
"I love the location," says Stolarski, who knows the neighborhood well — she used to live there! "It's about a block to the neighborhood pocket park on Edgefield, and a short walk to the Kessler Theater, and the fun restaurants on this end of Davis. Everyone loves Bishop Arts, and for good reason. But the places close to this home (Nova, PhD, BBBop, etc) are where locals chow down. "
Imagine picking up takeout and having dinner on your front porch, or walking from a relaxing dinner and capping the evening with neighbors in the large and shaded backyard.
"The home itself is the only airplane bungalow in Kings Highway Conservation District," Stolarski said. "You get the cockpit vibe in both of the bedrooms upstairs. The backyard is shaded by a huge pecan. And the corner lot means the parking access is on the side, so you don't lose all that space to driveway."
Considering the walkable nature of this neighborhood, you're probably not going to do much driving anyway.
"And my most favorite thing — the front porch! It's deep and wide, so there's room for furniture, and the orientation lets it catch the breeze," Stolarski gushed. "That's where I'd be every evening at cocktail hour."
She has the right idea, we think.
And inside, you'll find a warm and cozy three-bedroom, two-bath, 1,808-square-foot Arts & Crafts-style home with period-sensitive interiors in a fun palette. Stolarski is offering this 1935-built home for $442,000. The colorful vibe makes the home feel like a warm family retreat, and there's beautiful hardwoods and built-ins all over the place. We love the wood-burning fireplace in the living room, and the cozy breakfast nook is begging for a diner booth.
One room, which is being used as an additional first-floor bedroom is nice and bright, and because of the French doors that open to the living room, it would make a great home office or den. The first-floor master has a really cute, newly remodeled bath with frameless glass shower and subway tile. The two additional upstairs bedrooms are accessed off a landing and share a single bath.
And while we do love the cozy interiors, we have to say, the outside is something to behold. We're already picturing our chicken coop in the backyard. Love it!