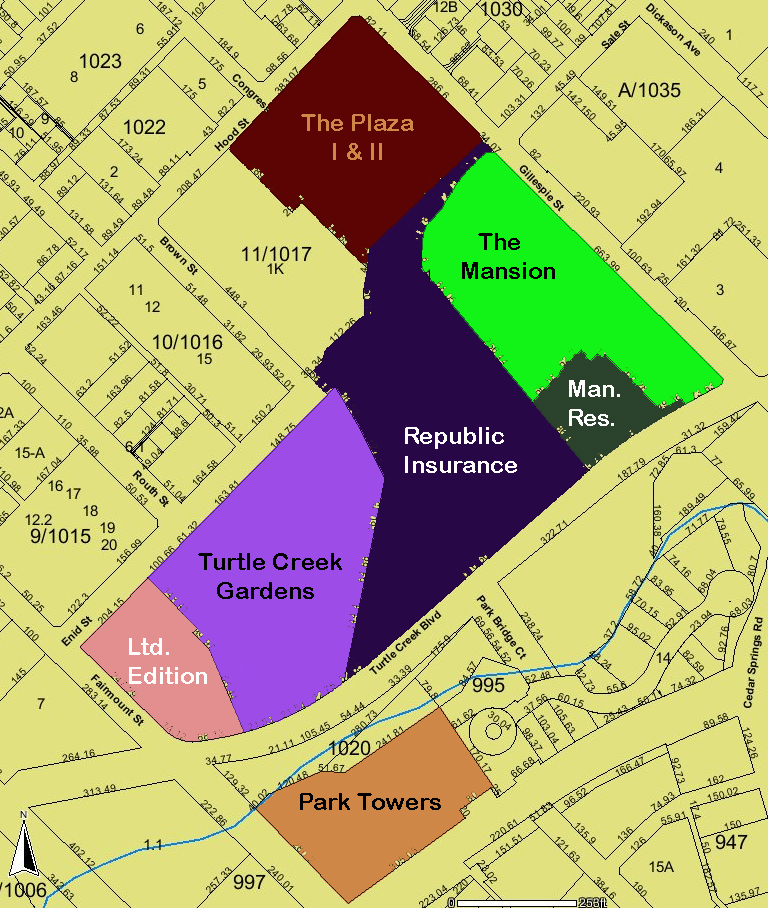 Typically, where there's smoke there's a fire.  But sometimes the wood is too wet and all you get is smoke. That describes the current situation on the west end of Turtle Creek's Gillespie and Fairmount streets.
You may recall the hooplah last June when it was reported that the owners of the Turtle Creek Gardens condos located at 2525 Turtle Creek Boulevard had been sold to a developer.  The deal was rumored to have been with JLL and a price of $43 million.  The deal was to have closed in October and the move-outs complete by February 2017.
I'd heard back in November that the closing had been moved due to troubles securing financing.  This seemed odd since it was also rumored that development plans were within current zoning restrictions. As one source said, "If you can't get funding for a by-rights plan, something's got the bank spooked."  The "spooking" they said wasn't the buyer or the deal, but rather banks being skittish of Dallas. With all the construction cranes spread across the area, I'll let you decide if that rings true.
But anyway, it's April, the deal hasn't closed and so still no moving vans line the streets in front of Turtle Creek Gardens.  But one thing has changed.  There's a unit on the market.  Unit 316 popped onto the market for $199,000 for its 1,238 square feet encompassing two bedrooms and two bathrooms.  So at least one owner is losing confidence in the deal.  After all, Turtle Creek Gardens lists 103 units … straight math says that a $43 million deal equates to roughly $417,475 per unit.
The listing also states that the HOA has the right of first refusal on any purchase.  Many condos have this in their bylaws, but I've never seen it spelled out in the listing agent's patter.  I surmise that to mean it's a real possibility that the HOA will override any offer.  It also hints that the developer's offer is still on the table.
Owners report that some maintenance is being stalled … which makes sense … no need to be pretty for the wrecking ball … and also says the HOA still has confidence in the deal.  Those owners also say they hope the deal with close "this year."
But one thing tickles the back of my mind.  It's been six months since the original close date and no other developer has swooped in, cash in hand, with a similar offer.  Surely the HOA would be within their contractual rights to dump the original deal in favor of another one. So is the $43 million too high?  Has the recent downzoning BS permeating the area scared developers and banks?
Time will tattle, it always does.
Turtle Creek Gardens' western neighbor at 2505 Turtle Creek is also silent.  We all recall the fanfare with which The Limited Edition was launched by Canadian developer Great Gulf.  It was to have been the be-all, end-all, ne-plus-ultra of Dallas high-rise living.  Only that after nearly two years of pre-sales, less than a handful of contracts were in hand.  Bank ain't gonna release funds for that.
Last year we were told that the project was going back to the shop for some retooling and de-luxurizing and that it would be back in the fall.  Well, clearly that didn't happen.
Folks now tell me that the lot is going to remain dirt for a while. You'd think owner Great Gulf would take down the construction fence advertising Limited Edition, throw some sod down and give the neighborhood a little temporary green space.
You may also recall the little Tara house across Fairmount that is also owned by Great Gulf.  It was to have been rental apartments.  We're hearing that project will be moving forward.  No word on whether they've retooled the floorplans (that I had issues with).  But as of this writing, it's still just a vacant lot and I've heard no timetable.
I wonder if Great Gulf's woes have infected Turtle Creek Gardens.  Without the signature, overly luxurious Limited Edition on the corner, are banks hesitant to move ahead with a project that may be too expensive for the neighborhood?  Now that has a ring of truth about it.
Remember:  High-rises, HOAs and renovation are my beat. But I also appreciate modern and historical architecture balanced against the YIMBY movement.  If you're interested in hosting a Candysdirt.com Staff Meeting event, I'm your guy. In 2016, my writing was recognized with Bronze and Silver awards from the National Association of Real Estate Editors.  Have a story to tell or a marriage proposal to make?  Shoot me an email sharewithjon@candysdirt.com.