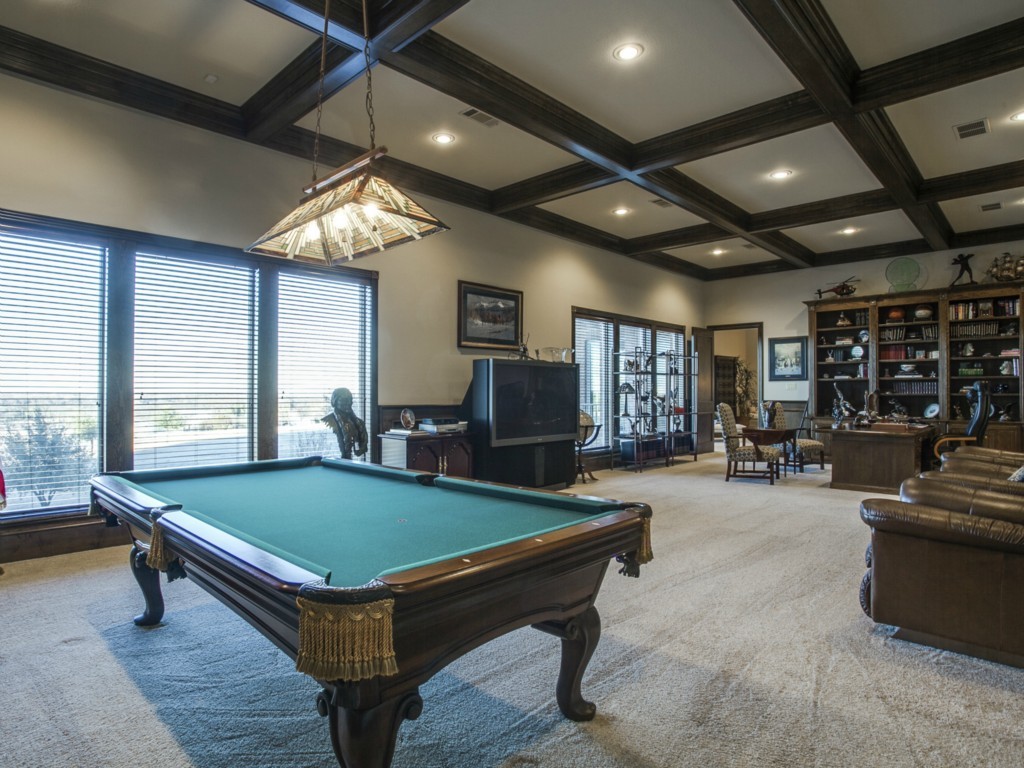 Man caves provide a place for dudes to recharge their batteries after a long day on their jobs, and a space where they can hang out with buddies, family, or alone. Many people say that men have a basic, primal, instinctual need to have a space to call their own, and the man cave fulfills that. They come in all shapes and sizes—sometimes, it's a shed in the backyard. Other times, it's a super posh spot in the house.
The folks over at Briggs Freeman Sotheby's International Realty have six houses on the market now that take man caves to their highest level. These ultra luxury digs showcase man caves in all their glory, from a full basketball court with airstrip outside, to a ten-car garage created to be the ultimate relaxation space, too.
Read on to get inspiration for your man cave.
CAR-LOVING MAN CAVE
This Tuscan estate by Richard Drummond Davis is located on a legendary street, with 4 acres of perfectly manicured organic grounds and gardens. The incredible man cave on this estate is fully air conditioned and heated, allowing the owner to spend as much time as he wants with up to ten cars. Quite a sweet spot. Listed by Lisa Besserer for $20 million.
RANCH MAN CAVE
The Hartlee Field Ranch is located 30 miles north of DFW, a 19,500-square-foot house sitting on 652 acres. It offers multiple man caves, from the fantastic pool table room pictured at the top of this post to an an indoor basketball court for shooting hoops. The land includes the historic Hartlee Field Airstrip, a training ground for military cadets in WWII. Listed by Angie Nelson for $14.85 million.
FAMILY GUY MAN CAVE
Ping pong never looked so luxe! Play in a gracious European-inspired traditional home on approximately 1.46 acres. The beautifully manicured grounds offer six outdoor fireplaces, terraces, and a custom treehouse and playhouse, pool, spa and sport court. Listed by Amy Detwiler for $10 million.
CONTEMPORARY MAN CAVE
This ultra-contemporary in the Knox-Henderson neighborhood features two-story glass walls, open spaces, and museum finish walls for art. The man cave is an attached garage-workshop area for "handy dad." It's a great buy for a contemporary under a million. Listed by Robby Sturgeon for $779,000.
MODERN MAN CAVE IN HISTORIC BUILDING
This property offers modern living in a pre-WWII brick building in the center of Dallas' downtown/Uptown neighborhood. This gem features designer finishes, glass walls, and an awesome location. The man cave here offers panoramic views from the Pegasus to the Perot Museum of Nature and Science. Listed by Anne Goyer and LeeLee Gioia for $2.875 million.
WINE CELLAR/MOVIE MAN CAVE
Known as the Dallas White House, this neoclassic design has 17th- and 18th-century fireplaces and burled walnut walls. The house sits on 3.3 acres on one of the most desired streets in the city. The man cave in this palatial estate is a gorgeous wine room, where he can sip in style. If that isn't luxe enough, there's an in-house theater, replete with red velvets cinema seating, a full bar, and large screen. Listed by Joan Eleazer for $19.5 million.