This hidden gem of a neighborhood in North Oak Cliff is becoming more and more popular it seems, with deals under $300K becoming as rare as the buffalo tenderloin at Fearings. That doesn't mean there aren't several great properties in Kiestwood, a fantastic nabe with tons of character and the kind of close-knit community you crave.
This particular home at 2848 Woodmere is on a huge corner lot and has pretty much everything you could possibly desire. Lush landscaping, tons of entertaining space, a koi pond, a pool, a lanai and a deck, plus a studio/workroom as well as a 2-car garage … The home seems to be just an endless amount of space!
This listing is from Dallas City Center Realtors' Tony Nuncio and is priced at $374,900. Considering that this home has two bedrooms, two full and one half baths, and 2,178 square feet with three living areas (!), well, it seems like a pretty darn good deal to me!
A great feature of this home is the see-through fireplace that opens to both the living and dining areas. There's a space for an office, separated by two French doors just off the formal living area, too. The kitchen boasts custom cabinetry, stainless steel appliances, and a nice eat-in island.
There are two bedrooms in the home, one of which has an en-suite bath. The current owners are using the larger bedroom as the master, which is accessible to the hall bathroom with a walk-in shower. The suite has a pedestal sink and not much storage. Still, in the separate bedroom you get access to the huge deck through double-paned sliding doors. That's a significant bonus, to me.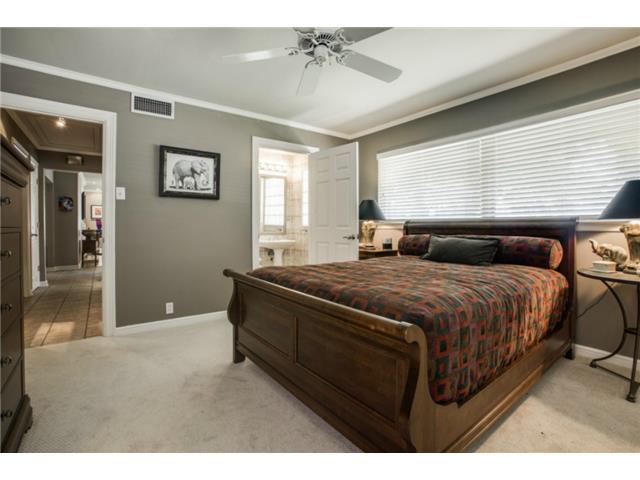 Now, if you like to be outdoors, then this is absolutely the home for you. Besides a spacious lanai with a built-in bar, this home has a gigantic deck that encircles a tree, providing a canopy of shade to the backyard. There's also a lovely pergola just in front of the pool, giving you a place to read while you dry from a dip! Then there's the koi pond, surrounded by huge boulders, just off of the small lawn. It is so perfect.
There's a half-bath just off the workshop, which is a gigantic space that could be a studio or a home office. Have a hobby or a home business? This is the spot for you! I just love this space and really, the possibilities are endless with this open floorplan. Totally worth it!